Are you an avid backyard birder? Spring is a wonderful time to watch for the arrival of migratory birds at your feeders. May 9, 2020 is World Migratory Bird Day. We've put together a short list of ebooks and links to diy bird feeders and more to celebrate.
You can check out activities and live streams on the World Migratory Bird site and the Smithsonian Institute's list of Seven Simple Actions to Help Birds.
The following selections are available with your Andover Public Library card. If you need assistance in registering for a new card or have issues with your existing card to access e-media, contact us.
Adult Selections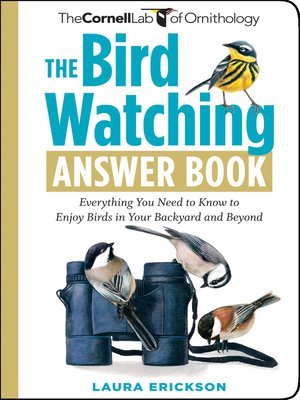 The Bird Watching Answer Book by Laura Erickson
Learn the how's and why's of bird behavior, from flirtatious mating practices and gorgeous birdsong to flying south for the winter. In this lively reference book, Laura Erickson addresses hundreds of real-life questions sent in to the Cornell Lab of Ornithology, the world's foremost authority on birds. With expert advice on bird watching techniques and equipment, feeding and housing birds, protecting habitats, and much more, Erickson guides you through the intricacies of the avian world with a contagious passion for our feathered friends.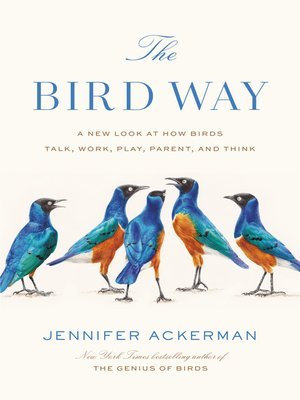 The Bird Way by Jennifer Ackerman
From the New York Times bestselling author of The Genius of Birds, a radical investigation into the bird way of being, and the recent scientific research that is dramatically shifting our understanding of birds — how they live and how they think.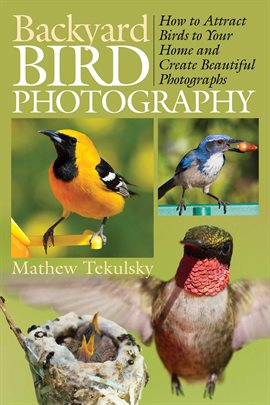 Backyard Bird Photography by Matthew Tekulsky
Fans of bird watching will rejoice with Backyard Bird Photography, a guide for learning how to set up your backyard in order to take the best photographs of your local birds. In addition to guiding you through the first steps of setting up your plantings and bird feeders, this book describes the types of photographic equipment you will need to get just the right image; how to maneuver yourself into just the right position to create a quality bird photograph; how to compose your shots for the greatest visual effect; and how to use more advanced techniques such as macro lenses and external flash techniques.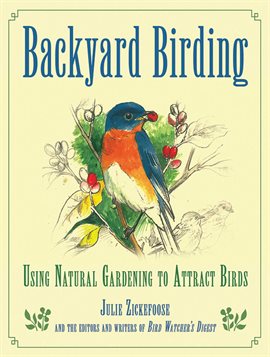 Backyard Birding by Julie Zikefoose
Bird watchers everywhere dream of a landscape filled with berry-laden branches, nesting spots among twining vines, and birds crowding their feeding stations. Let Backyard Birding show you how to lay out the welcome mat for your feathered friends by considering all of their needs, including year-round water, food, and shelter. Whether you're looking to create a hummingbird garden, install a water feature, create perches for birds, or simply let a corner of your property run wild, you'll find all of the inspiration and information you need here in Backyard Birding.
Children's Selections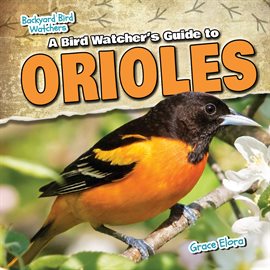 A Bird Watcher's Guide to Orioles by Grace Elora
Orioles are beloved backyard birds; they're always looking for something sweet to eat. In this attractive volume, future birders will learn about the many kinds of orioles and even take a trip to a Baltimore Orioles baseball game. Like bird-watching itself, this book mixes fun and entertaining story-like narrative with essential science concepts, such as habitats and life cycles. Sidebars include funny comments, interesting statistics, and amazing facts about these feathered creatures. Readers will be inspired to keep their own bird-watching journal.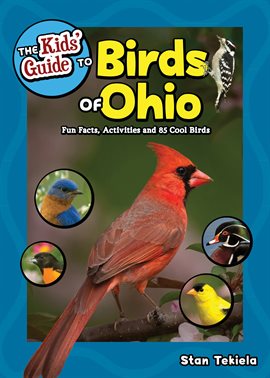 The Kid's Guide to Birds of Ohio by Stan Tekiela
Stan Tekiela's famous Birds of Ohio Field Guide has been delighting bird watchers for decades. Now, the award-winning author has written the perfect bird identification guide for children! The Kids' Guide to Birds of Ohio features 85 of the most common and important birds to know, with species organized by color for ease of use. Do you see a yellow bird and don't know what it is? Go to the yellow section to find out. Each bird gets a beautiful full-color photograph and a full page of neat-to-know information–such as field marks, calls/songs, a range map, and Stan's cool facts–that make identification a snap. Fun bonus activities for the whole family, like building a birdhouse and preparing your own bird food, make this a must-have beginner's guide to bird watching in the Buckeye State!
DIY Suet, Bird Feeders, and more
Bird Song Meditation by Jason Hill

Join us as we take you on a voyage to a sweet world of birds and meditation. This perfect mixture will relax you weekly or monthly as you listen to it. Audio media.