July 29, 2020 Maria Firkaly
Who doesn't love a good mystery? Reading mysteries is fun. It also demonstrates the power of critical thinking skills and promotes problem solving. We have put together just a handful of reading suggestions for children. Enjoy!
If you need assistance in placing a hold or using the Libby or Hoopla apps, please give us a call. We are here to help! 440-293-6792
Juvenile Mysteries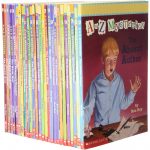 A toZ by Ron Roy (Reading level grades 3 – 5)
View series in the Libby by Overdrive app for e-book and audio books
This series features three smart kids who solve crimes and mysteries. They live in a small town in Connecticut, called Green Lawn. The kids are Dink Duncan, Josh Pinto, and Ruth Rose Hathaway. They are third graders and live near each other. They have hobbies and pets and parents, but what they love most is a good mystery. Most kids may enjoy reading the 26 books in alphabetical order. But you can skip around without missing anything. Have fun getting to know these three sly sleuths!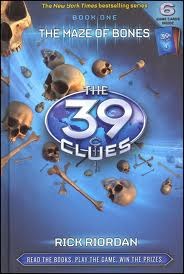 The Maze of Bones by Rick Riordan
Book #1 in the 39 Clues Series (interest level grades 4 – 8)
Place a hold for library pick-up
Libby: e-book, audio book
Hoopla: audio book
When their beloved aunt–matriarch of the world's most powerful family–dies, orphaned siblings Amy and Dan Cahill compete with less honorable Cahill descendants in a race around the world to find cryptic clues to a mysterious fortune.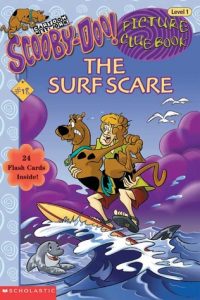 Scooby-Doo Picture Clue Book: The Surf Scare (Beginner)
Place a hold for library pick-up
The Picture Clue books are based on the traditional "rebus Reader" – using a picture as a tool for learning a word. On the sample spread, you can see where a picture is substituted for a word. This gives a young reader a sense of pride that she is "reading" the story.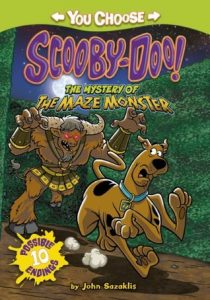 The Mystery of the Maze Monster (Scooby-Doo) by John Sazaklis (Interest level grades 2 – 6)
Scooby-Doo and the Mystery Inc. gang investigate a monster hiding in a business tycoon's maze garden. Will they find the right path or choose a dead end? Should they follow the clues or run and hide? Will Scooby get lost or discover a Scooby Snack? In this interactive story, YOU CHOOSE the path the gang should take. With your help, they'll solve this maze mystery.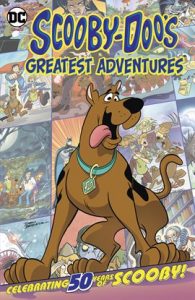 Scooby Doo's Greatest Adventures – e-comic book
Scooby-Doo and the Mystery, Inc. gang celebrate 50 years of spooks, scares and silliness in this all-ages collection of stories from the pages of Scooby-Doo #1, 10, 35, 68 and 72, Scooby-Doo Team-Up #2, 5 7, 8, 9, 12, 18, 37 and 40, and Scooby-Doo, Where Are You? #48, 51, 54, 71, 78, 79, 83, 85! Includes appearances by Batman, Wonder Woman, Superman, Swamp Thing, the Flintstones, the Jetsons, and a whole menagerie of super pets!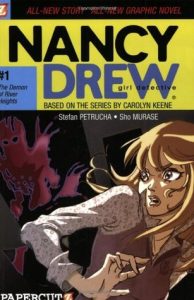 Nancy Drew Mysteries (reading level grades 3 – 6)
Available as the classic novels or in new graphic novel editions
Hardy Boys Series (reading level grades 3 – 6)
Available as the classic novels or in new graphic novel editions
Find more digital options to read, listen to, or watch
More Mystery E-books and audio books on Hoopla
More Mystery e-books and audio books on Libby