August 2020
Here's a peek at the newest arrivals! Book teasers from Fantastic Fiction and GoodReads, sites we use often to find authors and titles. Check it out! You can place a hold using our online catalog or call us at 440-293-6792.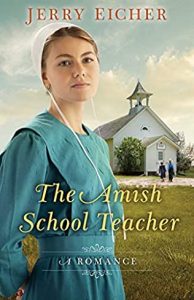 The Amish Schoolteacher: A Romance by Jerry Eicher
What will it take for Mary to let go of her pride and see Marcus for who he really is? A swift and heartwarming Amish romance, full of misunderstandings, tragedy, and the sweet satisfaction of young love.
Mary Wagler arrives in Adams County, Ohio for the new school term, ready to begin her duties teaching eighteen students at the little one room schoolhouse. Marcus Yoder, who lives next door with his widowed mother and his six younger siblings, is assigned the task of meeting the new arrival at the bus station. He is to transport Mary in his buggy to where she will board at Leon and Lavina Hochstetler's home. Mary is sure Marcus has volunteered for the task to make an early play on her affections and dreads the nuisance he will be in the coming weeks.

Mary opens her first day of school with a firm determination. She will make a solid contribution to this small Amish community nestled on the banks of the Ohio River. When Marcus stops by occasionally to greet his younger siblings after school, Mary is convinced he felt snubbed by her lack of interest in his early affection, and that he's hanging around to critique her every move and make the school term miserable for her.
When sickness sweeps through the school, Marcus comes to Mary's aid. Mary blames herself for handling the challenge poorly, and is surprised by Marcus's gentle response. Perhaps he's not quite the nuisance she thought he was. But she's been so rude to him that surely he's no longer interested in her friendship. Or could she be wrong . . . again?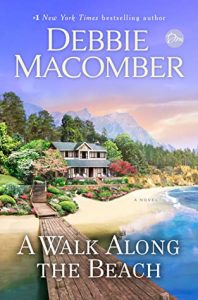 A Walk Along the Beach by Debbie Macomber
The Lakey sisters are perfect opposites. After their mother died and their father was lost in grief, Willa had no choice but to raise her sister, Harper, and their brother, Lucas. Then, as an adult, she put her own life on hold to nurse Harper through a terrifying illness. Now that Harper is better and the sisters are living as roommates, Willa has realized her dream of running her own bakery and coffee shop, bringing her special brand of caretaking to the whole Oceanside community.
Harper, on the other hand, is always on the go. Overcoming a terrible illness has given her a new lease on life, and she does not intend to waste it. When Harper announces her plan to summit Mount Rainier, Willa fears she may be pushing herself too far. Harper, for her part, urges Willa to stop worrying and do something outside of her comfort zone—like taking a chance on love with a handsome new customer.
Sean O'Malley is as charming as he is intriguing—a freelance photographer whose assignments take him to the ends of the earth. Soon Willa's falling for him in a way that is both exciting and terrifying. But life has taught Willa to hedge her bets, and she wonders whether the potential heartache is worth the risk.
Life has more challenges in store for them all. But both sisters will discover that even in the darkest moments, family is everything.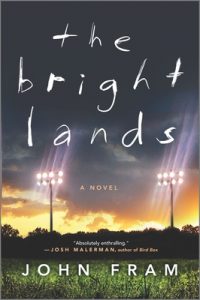 The Bright Lands by John Fram
The town of Bentley holds two things dear: its football, and its secrets. But when star quarterback Dylan Whitley goes missing, an unremitting fear grips this remote corner of Texas.
Joel Whitley was shamed out of conservative Bentley ten years ago, and while he's finally made a life for himself as a gay man in New York, his younger brother's disappearance soon brings him back to a place he thought he'd escaped for good. Meanwhile, Sheriff's Deputy Starsha Clark stayed in Bentley; Joel's return brings back painful memories—not to mention questions—about her own missing brother. And in the high school hallways, Dylan's friends begin to suspect that their classmates know far more than they're telling the police. Together, these unlikely allies will stir up secrets their town has long tried to ignore, drawing the attention of dangerous men who will stop at nothing to see that their crimes stay buried.
But no one is quite prepared to face the darkness that's begun to haunt their nightmares, whispering about a place long thought to be nothing but an urban legend: an empty night, a flicker of light on the horizon—The Bright Lands.
Shocking, twisty and relentlessly suspenseful, John Fram's debut is a heart-pounding story about old secrets, modern anxieties and the price young men pay for glory.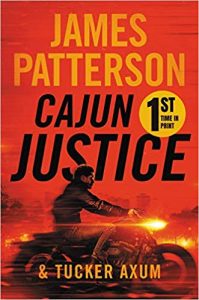 Cajun Justice by James Patterson and Tucker Axum III
Cain Lemaire, a Secret Service agent from New Orleans, has the job he's always wanted – until a single night results in a scandal that gets him fired.
Needing a new direction, Cain follows his sister to Japan and takes a job in Tokyo as head of security for the CEO of a top company. But what he thought was a simple security assignment unravels a tangled web of corruption, greed and extortion.
Without the wealth of resources he had with the Secret Service, Cain will have to rely on his instincts and training as he races to find justice the way only a former agent can.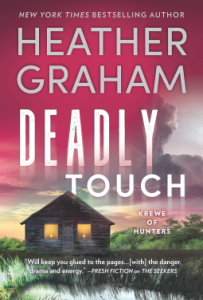 Deadly Touch by Heather Graham
When Raina Hamish tries on a dress in a Miami boutique, she has a terrifyingly accurate vision of a murdered corpse in the murky shadows of the Everglades. She wants to help, but who would believe her when she can hardly believe herself?
Special Agent Axel Tiger has returned to Florida to help hunt a serial killer, but the investigation doesn't have much to go on. Raina's vision is their best chance to uncover more. Axel's experience with the FBI's elite paranormal team will nurture Raina's abilities, and she may be able to help save a life—but it puts her directly in the crosshairs of a killer who is closer than they would ever suspect.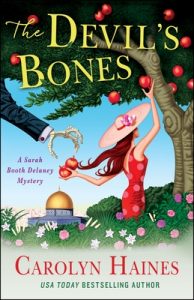 The Devil's Bones: A Sarah Booth Delaney Mystery by Carolyn Haines
As Sarah Booth sees it, Easter weekend is a time to celebrate life in all its many forms. So when the newly-pregnant Tinkie invites her and Cece on a girls' trip to Lucedale, Mississippi to celebrate that spring has officially sprung, Sarah Booth can't resist. Plans include facials, food, and a trip to the incredible Garden of Bones—a miniature Holy Land with recreations of all parts of the Middle East—for their Sunrise Easter Services led by biblical scholar, gardener, and creator of the Gardens Daniel Reynolds.
Unfortunately for Sarah Booth and the gang, someone doesn't seem appreciate this season of new life. Easter morning has just dawned when the trio find themselves at the Mount of Olives—with a dead body at their feet.
Reynolds identifies the dead man as local lawyer Perry Slay, who was well known for his sly and underhanded dealings. Perry had rubbed plenty of people the wrong way, and now it looks like someone has rubbed him out…
Because being a PI apparently means never being on vacation, Sarah Booth and her friends must now find a way to resurrect the truth from a list of suspects as long as the River Jordan, reveal the devil in disguise, and—if they're lucky—find a moment to enjoy a few chocolate bunnies before more bodies pile up like pillars of salt.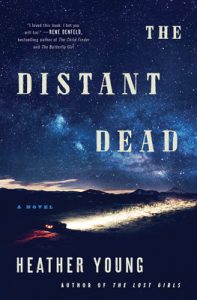 The Distant Dead by Heather Young
A body burns in the high desert hills. A young boy walks into a fire station, pale with the shock of a grisly discovery. A middle school teacher worries when her colleague is late for work. By day's end, when the body is identified as new math teacher Adam Merkel, a small Nevada town will begin its reckoning with a brutal and calculated murder.
Adam Merkel left a university professorship to teach middle school math in Lovelock seven months before he died. A quiet, seemingly unremarkable man, he spoke little about his past and connected with only one of his students: Sal Prentiss, an orphaned sixth grader who lives on a remote ranch in the hills with his uncles. The two outcasts developed a tender, trusting friendship that brought each of them hope in the wake of tragedy. But it is Sal who finds Adam's body, and Sal who must carry his darkest secret.
Nora Wheaton is the middle school's social studies teacher. Twelve years ago she abandoned her dream of being an archaeologist to care for her disabled father, a man she loves but can't forgive for her brother's death. As she delves into Adam's past for clues to who killed him she draws closer to Sal, unearths difficult truths about her relationship with her father, and finds an unexpected chance to — perhaps — live the life she thought she'd lost.
Over the course of one fateful school year, all three of these kindred spirits must wrestle with the burden of remorse, the price of forgiveness, and the debts they owe their dead. The very questions, it turns out, that also haunt Adam's killer.
Weaving together the last months of Adam Merkel's life and Nora's search for answers after his death, this literary thriller crafts a taut web of suspense that builds relentlessly to its shattering, unexpected conclusion.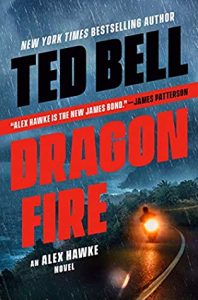 Dragonfire by Ted Bell
December 8, 1941, Washington, D.C.
The new Chinese ambassador to the United States, Tiger Tang, meets with President Roosevelt one day after the attack on Pearl Harbor. For the next four years, China and the U.S. will be wartime allies, but the charming, sophisticated ambassador may be playing his own treacherous game.
Today, The Bahamas
Alex Hawke is recovering from serious injuries incurred during a battle with a malevolent enemy. His recuperation is interrupted by a desperate call from the Queen. Her favorite grandson has disappeared in the Bahamas. Lord Hawke is the only man she trusts with a mission this sensitive. All she knows is that the young prince was last seen at the exclusive Dragonfire nightclub owned by the nefarious Tang brothers, grandsons of Ambassador Tiger Tang.
Game of Dog Bones by Laurien Berenson
Standard Poodle owner Melanie Travis is an excellent judge of dogs—and people. But what happens when an unnamed killer emerges at one of the fiercest all-breed competitions ever?

As Greenwich, Connecticut, slows down during a bitterly cold February, Melanie and her spunky Aunt Peg head to the city that never sleeps for the Westminster Kennel Club Dog Show at Madison Square Garden. Aunt Peg can't wait to demonstrate her judging chops on national TV, even after being hounded by frustrating mishaps—all seemingly orchestrated by Victor Durbin, an ousted Paugussett Poodle Club member with a bone to pick. But the bright lights of the show ring grow dim when Victor is found murdered, and she's the one topping the suspect list . . .

Driven to solve the crime on her aunt's behalf, Melanie fetches hair-raising clues about the victim. Victor didn't score many friends with his unethical breeding practices, sketchy puppy café, and penchant for mercilessly scamming others to get ahead. He burned so many bridges that his own business partner admits to being delighted by news of his death. It appears Victor finally toyed with the wrong person, and as Melanie digs up more chilling evidence, she realizes that exonerating Aunt Peg means confronting a murderer who's in it to win it . . .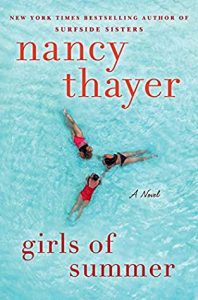 Girls of Summer by Nancy Thayer
Lisa Hawley is perfectly satisfied living on her own. Having fully recovered from a brutal divorce nearly two decades earlier, she has successfully raised her kids, Juliet and Theo, seeing them off to college and beyond. As the owner of a popular boutique on Nantucket, she's built a fulfilling life for herself on the island where she grew up. With her beloved house in desperate need of repair, Lisa calls on Mack Whitney, a friendly—and very handsome—local contractor and fellow single parent, to do the work. The two begin to grow close, and Lisa is stunned to realize that she might be willing to open up again after all . . . despite the fact that Mack is ten years her junior.
Juliet and Theo worry that Mack will only break their mother's heart—and they can't bear to see her hurt again. Both stuck in ruts of their own, they each hope that a summer on Nantucket will provide them with the clarity they've been searching for. When handsome entrepreneur Ryder Hastings moves to the island to expand his environmental nonprofit, Juliet, an MIT-educated web designer, feels an immediate attraction, one her rocky love life history pushes her to deny at first. Meanwhile, free spirit Theo finds his California bliss comes to a brutal halt when a surfing injury forces him back to the East Coast. Upon his return, he has eyes only for Mack's daughter, Beth, to whom he is bound by an unspeakable tragedy from high school. Can they overcome their past?
As the season unfolds, a storm threatens to shatter the peace of the golden island, forcing Lisa, Juliet, and Theo to decide whether their summer romances are destined for something more profound. Nancy Thayer dazzles again in this delightful tale of family, a reminder that sometimes, finding our way back home can bring us unexpected gifts.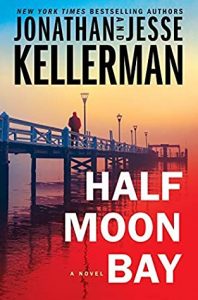 Half Moon Bay by Jessie Kellerman and Jonathan Kellerman
Clay Edison has his hands full. He's got a new baby who won't sleep. He's working the graveyard shift. And he's trying, for once, to mind his own business. Then comes the first call. Workers demolishing a local park have made a haunting discovery: the decades-old skeleton of a child. But whose? And how did it get there?
No sooner has Clay begun to investigate than he receives a second call—this one from a local businessman, wondering if the body could belong to his sister. She went missing fifty years ago, the man says. Or at least I think she did. It's a little complicated.
And things only get stranger from there. Clay's relentless search for answers will unearth a history of violence and secrets, revolution and betrayal. Because in this town, the past isn't dead. It's very much alive. And it can be murderous.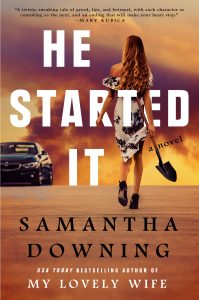 He Started It by Samantha Downing
No-one knows you better than your family.
They know the little things that make you smile. Your proudest achievements. Your darkest secrets.
Sure, you haven't always been best friends.
But if it seemed as though someone was after you, that you might be in danger, then you'd be on each other's side.
Right?
So gripping you won't stop reading.
So twisty that you won't know who to trust.
And so dark that you'll realise something truly chilling:
No-one is more dangerous than the ones who know you best.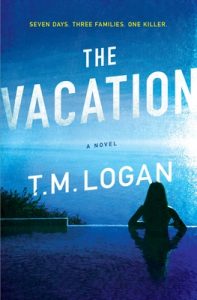 The Vacation by T M Logan
It was supposed to be the perfect getaway: Kate and her three best friends, spending a week with their families in a luxurious villa in the south of France. Through the decades they've stayed closer than ever, and seven days of drinking crisp French wine and laying out under the dazzling Mediterranean sun is the perfect celebration of their friendship. But soon after arriving, Kate discovers an incriminating text on her husband's cell phone.
A text revealing that he's having an affair.
And that the other woman is one of her best friends.
But which one?
Trapped in paradise with no one to trust, Kate is determined to find out who has put her marriage—and a lifelong friendship—in jeopardy. But as she closes in on the truth, she realizes that the stakes are higher than she ever imagined. Everyone on the trip has secrets…and someone may be prepared to kill to keep theirs hidden.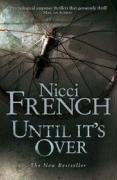 Until It's Over by Nicci French
Young and athletic, London cycle courier Astrid Bell is bad luck – for other people. First Astrid's neighbour Peggy Farrell accidentally knocks her off her bike – and not long after is found bludgeoned to death. Then a few days later, Astrid is asked to pick up a package from a wealthy woman called Ingrid de Soto, only to find the client murdered in the hall of her luxurious home. For the police it's more than coincidence. For Astrid and her six housemates it's the beginning of a nightmare: suspicious glances, bitter accusations, fallings out and a growing fear that the worst is yet to come …Because if it's true that bad luck comes in threes – who will be the next to die?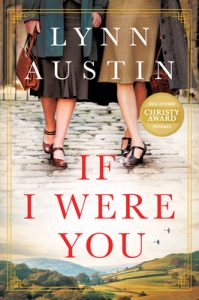 If I Were You: A Novel by Lynn Austin
1950. In the wake of the war, Audrey Clarkson leaves her manor house in England for a fresh start in America with her young son. As a widowed war bride, Audrey needs the support of her American in-laws, whom she has never met. But she arrives to find that her longtime friend Eve Dawson has been impersonating her for the past four years. Unraveling this deception will force Audrey and Eve's secrets—and the complicated history of their friendship—to the surface.
1940. Eve and Audrey have been as different as two friends can be since the day they met at Wellingford Hall, where Eve's mother served as a lady's maid for Audrey's mother. As young women, those differences become a polarizing force . . . until a greater threat—Nazi invasion—reunites them. With London facing relentless bombardment, Audrey and Eve join the fight as ambulance drivers, battling constant danger together. An American stationed in England brings dreams of a brighter future for Audrey, and the collapse of the class system gives Eve hope for a future with Audrey's brother. But in the wake of devastating loss, both women must make life-altering decisions that will set in motion a web of lies and push them both to the breaking point long after the last bomb has fallen.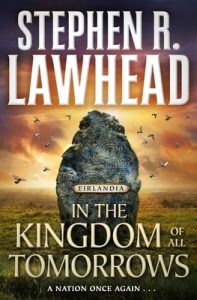 In the Kingdom of All Tomorrows: Eirlandia, Book Three by Stephen R Lawhead
Conor mac Ardan is now clan chief of the Darini.
Tara's Hill has become a haven and refuge for all those who were made homeless by the barbarian Scálda.
A large fleet of the Scálda's Black Ships has now arrived and Conor joins Eirlandia's lords to defeat the monsters. He finds treachery in their midst…and a betrayal that is blood deep.
And so begins a final battle to win the soul of a nation.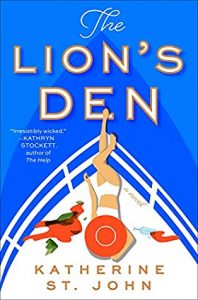 The Lion's Den by Katherine St. John
Dare to step on board The Lion's Den?
When Belle is invited by her old friend Summer on a luxurious girls' getaway to the Mediterranean aboard her billionaire boyfriend's yacht, the only answer is yes.
But once aboard the opulent Lion's Den, the dream holiday quickly turns into a nightmare. Belle and the other six women Summer has invited are treated more like prisoners than guests by their powerful host, locked into their cabins at night, their every move controlled – and Belle finds Summer herself is no longer the girl she once knew.
It soon becomes clear someone has a dark secret. Pulled into a dangerous game of cat and mouse, Belle realizes she must keep her wits about her if she is to make it off the yacht alive…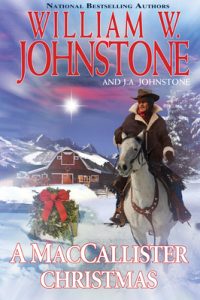 A Maccallister Christmas by J.A. Johnstone and William W. Johnstone
Ever since he left Scotland to start a new life in America, Duff MacCallister has stayed true to the values and traditions of his clan in the Highlands. But as Christmas approaches, he yearns to reconnect with his family—even the ones he hasn't met yet. This year, two of his American cousins—twins Andrew and Rosanna—will be joining Duff for the holidays at the Sky Meadow Ranch. That is, if they manage to get there alive . . .

The twins' train is held up by not one, but two vicious outlaw gangs. The Jessup gang has been using the Spalding gang's hideout to plan the robbery. The Jessups just lost two of their brothers in a bank job gone wrong—courtesy of Duff MacCallister—and they're gunning for revenge. Together, these two bloodthirsty bands of killers and thieves are teaming up to make this one Christmas the MacCallisters will never forget. But Duff's ready to deliver his own brand of gun-blazing justice, holidays be damned . . .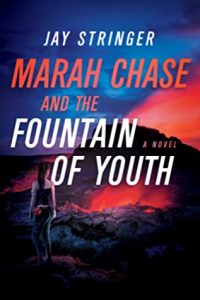 Marah Chase and the Fountain of Youth by Jay Stringer
Adventurer Marah Chase can't resist one last globe-trotting quest to rescue a friend and discover a legendary locale.
Marah Chase has everything she wanted. Her academic career is back on track, she's moved into a Manhattan apartment, and a dream job is waiting at the American Museum of Natural History. So why can't she seem to stop slipping into her old ways, traveling the world in search of lost relics and buried treasure?
Back out in the field, Chase finds the lost Ark of the Covenant, a discovery that could trigger a holy war, as religions and nations argue over ownership of the sacred item. The Ark also brings Chase into conflict with another legendary relic runner, August Nash, a clash the entire underground smuggling community has been waiting for, and not one that will end anytime soon.
Upon returning home, Chase is hired by US soda billionaire Lauren Stanford to find the Fountain of Youth. At first, Chase dismisses this idea. But then Stanford tells her that an old friend found some information on the Fountain's location and is now missing. Chase agrees to take the job—but only to find her friend—and enlists allies along the way on a trail from New York to London, and then on to Glasgow. Behind the myth, they find, lies a much older secret, and now they're in a race to find the Fountain ahead of Nash and his nefarious cohorts. Whoever gets there first will have control over the future of humanity.
Marah Chase and the Fountain of Youth is a tense, exciting, and epic adventure novel, spanning three continents and broadening the world of the Marah Chase series, placing Chase in the unique position to confront questions of identity, faith, imperialism, and appropriation.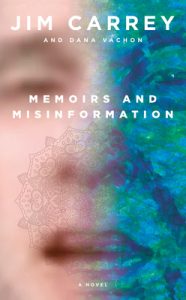 Memoirs and Misinformation by Jim Carrey and Dana Vachon
"None of this is real and all of it is true." –Jim Carrey
Meet Jim Carrey. Sure, he's an insanely successful and beloved movie star drowning in wealth and privilege–but he's also lonely. Maybe past his prime. Maybe even . . . getting fat? He's tried diets, gurus, and cuddling with his military-grade Israeli guard dogs, but nothing seems to lift the cloud of emptiness and ennui. Even the sage advice of his best friend, actor and dinosaur skull collector Nicolas Cage, isn't enough to pull Carrey out of his slump.
But then Jim meets Georgie: ruthless ingénue, love of his life. And with the help of auteur screenwriter Charlie Kaufman, he has a role to play in a boundary-pushing new picture that may help him uncover a whole new side to himself–finally, his Oscar vehicle! Things are looking up!
But the universe has other plans.

Memoirs and Misinformation is a fearless semi-autobiographical novel, a deconstruction of persona. In it, Jim Carrey and Dana Vachon have fashioned a story about acting, Hollywood, agents, celebrity, privilege, friendship, romance, addiction to relevance, fear of personal erasure, our "one big soul," Canada, and a cataclysmic ending of the world–apocalypses within and without.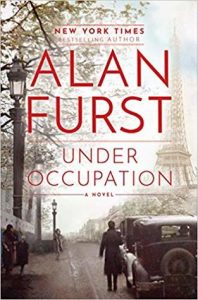 Under Occupation by Alan Furst
Occupied Paris, 1942.
In the dark, treacherous city, the German occupying forces are everywhere-and so are French resistance fighters, working secretly to defeat Hitler.
Just before he dies, a man being chased by the Gestapo hands off a strange-looking document to the unsuspecting novelist Paul Ricard. It looks like a blueprint of a part for a military weapon – one that might have important information for the Allied forces – and Ricard realizes he must try to get it into the hands of members of the resistance network.
As he finds himself drawn deeper and deeper into anti-German efforts, Ricard travels deep into enemy territory and along the escape routes of underground resistance safe houses, spying on Nazi maneuvers. And when he meets the mysterious and beautiful Leila, a professional spy, they begin to work together to get crucial information out of France and into the hands of the Allied forces in London.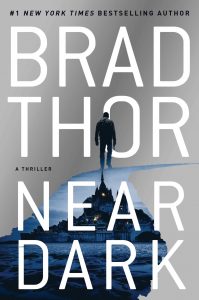 Near Dark, Volume 19: A Thriller by Brad Thor
The world's largest bounty has just been placed upon America's top spy. His only hope for survival is to outwit, outrun, and outlast his enemies long enough to get to the truth.
But for Scot Harvath to accomplish his most dangerous mission ever—one that has already claimed the lives of the people closest to him, including his new wife—he's going to need help—a lot of it.
Not knowing whom he can trust, Harvath finds an unlikely ally in Norwegian intelligence operative Sølvi Kolstad. Just as smart, just as deadly, and just as determined, she not only has the skills, but also the broken, troubled past to match Harvath's own.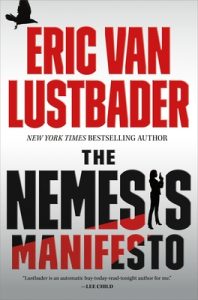 The Nemesis Manifesto by Eric Van Lustbader
Evan Ryder is a lone wolf, a field agent for a black-ops arm of the DOD, who has survived unspeakable tragedy and dedicated her life to protecting her country. When her fellow agents begin to be systematically eliminated, Evan must unravel the thread that ties them all together…and before her name comes up on the kill list.
The list belongs to a mysterious cabal known only as Nemesis, a hostile entity hell-bent on tearing the United States apart. As Evan tracks them from Washington D.C. to the Caucasus Mountains, from Austria to a fortress in Germany where her own demons reside, she unearths a network of conspirators far more complex than anyone could have imagined. Can Evan uproot them before Nemesis forces bring democracy to its knees?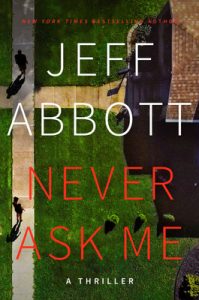 Never Ask Me by Jeff Abbott
Danielle Roberts has the perfect life. An adoption worker, beloved girlfriend and doting mother, she is a cherished pillar of the community, and nobody is closer to her than the Pollitt family who live two doors down.
So when Danielle's body is discovered on a park bench it sets off a chain reaction of intrigue and suspicion: who in this small town would want her dead, and why? There are questions that nobody can answer, and everyone is a suspect.
The Pollitts thought they would always be there for each other, but they are all hiding secrets. And when they begin to suspect each other of the unimaginable, they discover that you can never truly know someone. Not even your own family . . .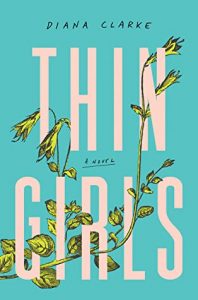 Thin Girls by Diana Clarke
Rose and Lily Winters are twins, as close as the bond implies; they feel each other's emotions, taste what the other is feeling. Like most young women, they've struggled with their bodies and food since childhood, and high school finds them turning to food—or not—to battle the waves of insecurity and the yearning for popularity. But their connection can be as destructive as it is supportive, a yin to yang. when Rose stops eating, Lily starts—consuming everything Rose won't or can't.
Within a few years, Rose is about to mark her one-year anniversary in a rehabilitation facility for anorexics. Lily, her sole visitor, is the only thing tethering her to a normal life.
But Lily is struggling, too. A kindergarten teacher, she dates abusive men, including a student's married father, in search of the close yet complicated companionship she lost when she became separated from Rose.
When Lily joins a cult diet group led by a social media faux feminist, whose eating plan consists of consuming questionable non-caloric foods, Rose senses that Lily needs her help. With her sister's life in jeopardy, Rose must find a way to rescue her—and perhaps, save herself.
Illuminating some of the most fraught and common issues confronting women, Thin Girls is a powerful, emotionally resonant story, beautifully told, that will keep you turning the pages to the gratifying, hopeful end.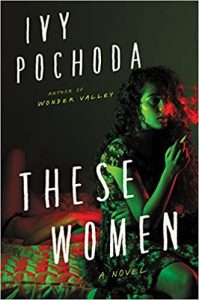 These Women by Ivy Pochoda
In West Adams, a rapidly changing part of South Los Angeles, they're referred to as "these women." These women on the corner … These women in the club … These women who won't stop asking questions … These women who got what they deserved …
In her masterful new novel, Ivy Pochoda creates a kaleidoscope of loss, power, and hope featuring five very different women whose lives are steeped in danger and anguish. They're connected by one man and his deadly obsession, though not all of them know that yet. There's Dorian, still adrift after her daughter's murder remains unsolved; Julianna, a young dancer nicknamed Jujubee, who lives hard and fast, resisting anyone trying to slow her down; Essie, a brilliant vice cop who sees a crime pattern emerging where no one else does; Marella, a daring performance artist whose work has long pushed boundaries but now puts her in peril; and Anneke, a quiet woman who has turned a willfully blind eye to those around her for far too long. The careful existence they have built for themselves starts to crumble when two murders rock their neighborhood.
Written with beauty and grit, tension and grace, These Women is a glorious display of storytelling, a once-in-a-generation novel.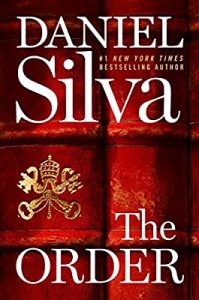 The Order by Daniel Silva
LOST FOR CENTURIES, ONE BOOK HOLDS THE KEY.
Legendary spy and art restorer Gabriel Allon has slipped into Venice for a much-needed holiday with his wife and two young children. But when Pope Paul VII dies suddenly, Gabriel is summoned to Rome by the Holy Father's loyal private secretary, Archbishop Luigi Donati. A billion Catholic faithful have been told that the pope died of a heart attack. Donati, however, has two good reasons to suspect his master was murdered. The Swiss Guard who was standing watch the night of the pope's death is missing. So, too, is the letter the Holy Father was writing during the final hours of his life. A letter that was addressed to an old friend: Gabriel.
While researching in the Vatican Secret Archives, I came upon a most remarkable book …
The book is a long-suppressed gospel that calls into question the accuracy of the New Testament's depiction of one of the most portentous events in human history. For that reason alone, the Order of St. Helena will stop at nothing to keep it out of Gabriel's hands. A shadowy Catholic society with ties to the European far right, the Order is plotting to seize control of the papacy. And it is only the beginning …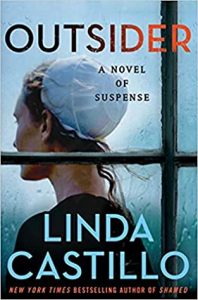 Outsider: A Novel of Suspense by Linda Castillo
While enjoying a sleigh ride with his children, Amish widower Adam Lengacher discovers a car stuck in a snowdrift and an unconscious woman inside. He calls upon Chief of Police Kate Burkholder for help, and she is surprised to recognize the driver: fellow cop and her former friend, Gina Colorosa.
Years before, Kate and Gina were best friends at the police academy and patrol officers in Columbus, but time and distance have taken them down two very different paths. Now, Gina reveals a shocking story of betrayal and revenge that has forced her to run for her life. She's desperate for protection, and the only person she can trust is Kate—but can Kate trust her? Or will Gina's dark past put them all in danger?
As a blizzard bears down on Painters Mill, Kate helps Gina go into hiding on Adam's farm. While the tough-skinned Gina struggles to adjust to the Amish lifestyle, Kate and state agent John Tomasetti delve into the incident that caused Gina to flee. But as Kate gets closer to the truth, a killer lies in wait. When violence strikes, she must confront a devastating truth that changes everything she thought she knew not only about friendship, but the institution to which she's devoted her life.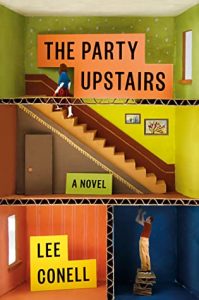 The Party Upstairs by Lee Conell
Ruby has a strange relationship to privilege. She grew up the super's daughter in the basement of an Upper West Side co-op that gets more gentrified with each passing year. Though not economically privileged herself, her close childhood friendship with Caroline, the daughter of affluent tenants, and the mere fact of living in such a wealthy neighborhood, close to her beloved Natural History Museum, brought her certain advantages, even expectations. Naturally Ruby followed her dreams and took out loans to attend a prestigious small liberal arts college and explore her interest in art. But now, out of school for a while, she is no closer to her dream job, or anything resembling it, and she's been forced by circumstances to do the last thing she wanted to do: move back in with her parents, back into the basement. And Caroline is throwing one of her parties tonight, in her father's glorious penthouse apartment, a party Ruby looks forward to and dreads in equal measure.
With a thriller's narrative control, The Party Upstairs distills worlds of wisdom about families, great expectations, and the hidden violence of class into the gripping, darkly witty story of a single fateful day inside the Manhattan co-op Ruby calls home. Told from the alternating points of view of Ruby and her father, the novel builds from the spark of an early morning argument between them to the ultimate conflagration to which it leads by day's end. By the time the ashes have cooled, the façade that masks the building's power structure will have burned away, and no party will be left unscathed.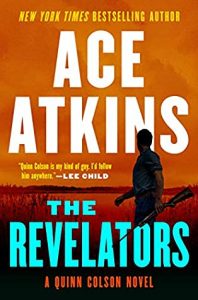 The Revelators by Ace Atkins
Shot up and left for dead, Sheriff Quinn Colson has revenge on his mind. With the help of his new wife Maggie, rehabilitation, and sheer force of will, he's walking again, eager to resume his work as a southern lawman and track down those responsible for his attempted murder. But someone is standing in his way: an interim sheriff, appointed by the newly elected Governor Vardaman, the man who Quinn knows ordered his murder. Vardaman sits at the top of the state's power structure–both legal and criminal–and little does he know, Quinn is still working to take him down.
Quinn will enlist the help of his most trusted friends, including federal agent Jon Holliday, U.S. Marshal Lillie Virgil, and Nat Wilikins, an undercover agent now working for crime queen Fannie Hathcock. Since Quinn's been gone, the criminal element in north Mississippi has flourished, with Hathcock enjoying unbridled freedom. Now as a bustling factory shuts down, a labor leader ends up dead, and Quinn's own nephew goes missing, everything looks to be unraveling. Even an old friend from Quinn's past, Donnie Varner, is out of jail and up to his own ways.
Quinn Colson and company have been planning for years, and now they're finally ready to bust apart a criminal empire running on a rigged system for far too long. This is the Battle of Jericho, the epic showdown that's been years in the making. Eventually, the war will end–for better or worse.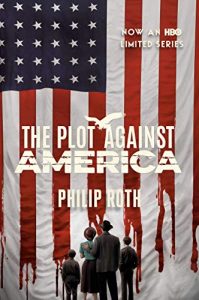 The Plot Against America by Philip Roth
When the renowned aviation hero and rabid isolationist Charles A. Lindbergh defeated Franklin Roosevelt by a landslide in the 1940 presidential election, fear invaded every Jewish household in America. Not only had Lindbergh, in a nationwide radio address, publicly blamed the Jews for selfishly pushing America towards a pointless war with Nazi Germany, but, upon taking office as the 33rd president of the United States, he negotiated a cordial 'understanding' with Adolf Hitler, whose conquest of Europe and whose virulent anti-Semitic policies he appeared to accept without difficulty. What then followed in America is the historical setting for this startling new novel by Pulitzer-prize winner Philip Roth, who recounts what it was like for his Newark family – and for a million such families all over the country – during the menacing years of the Lindbergh presidency, when American citizens who happened to be Jews had every reason to expect the worst.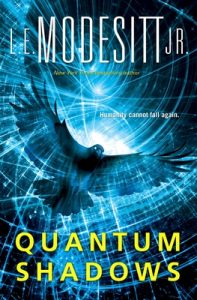 Quantum Shadows by L.E. Modesitt Jr
On a world called Heaven, the ten major religions of mankind each have its own land governed by a capital city and ruled by a Hegemon. That Hegemon may be a god, or a prophet of a god. Smaller religions have their own towns or villages of belief.
Corvyn, known as the Shadow of the Raven, contains the collective memory of humanity's Falls from Grace. With this knowledge comes enormous power.
When unknown power burns a mysterious black image into the holy place of each House of the Decalivre, Corvyn must discover what entity could possibly have that much power. The stakes are nothing less than another Fall, and if he doesn't stop it, mankind will not rise from the ashes.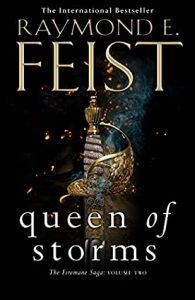 Queen of Storms: Book Two of the Firemane Saga by Raymond E Feist
Dark and powerful forces threaten the world of Garn once more in this second novel in legendary New York Times bestselling author Raymond E. Feist's epic fantasy series, the Firemane Saga.
Hatushaly and his young wife Hava have arrived in the prosperous trading town of Beran's Hill to restore and reopen the fire-damaged Inn of the Three Stars. They are also preparing for the popular midsummer festival, where their friends Declan and Gwen will be wed.
But Hatu and Hava are not the ordinary loving couple they appear to be. They are assassins from the mysterious island of Coaltachin, home to the powerful and lethal Nocusara, the fearsome "Hidden Warriors." Posing as innkeepers, they are awaiting instructions from their masters in the Kingdom of Night.
Hatu conceals an even more dangerous secret. He is the last remaining member of the legendary Firemanes, the ruling family of Ithrace. Known as the Kingdom of Flames, Ithrace was one of the five greatest realms of Tembria, ruled by Hatu's father, Stervern Langene, until he and his people were betrayed. His heir, Hatu—then a baby—was hidden among the Nocusara, who raised him to become a deadly spy.
Hatu works hard to hide his true identity from all who would seek to use or to destroy him, as fate has other plans for the noble warrior. Unexpected calamity forces him to make choices he could not have dreamed awaited him.
A series of horrific events shatters the peace of Beran's Hill, bringing death and devastation and unleashing monstrous forces. Once more, the Greater Realms of Tembria are threatened—and nothing will ever be the same again.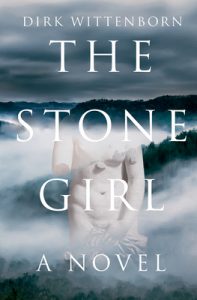 The Stone Girl by Dirk Wittenborn
The Stone Girl is a riveting tale of deception, vengeance, and power set against the haunting beauty of the Adirondack wilderness.
Deep in the Adirondack Mountains lies a speck of a town called Rangeley. There isn't much to this tiny town, but it is at the crossroads of serene fishing streams off the Mink River, pristine hunting grounds in the surrounding mountains, and vast estates of the extremely rich. It is also the gateway to the Mohawk Club, which houses the Lost Boys, an exclusive group of wealthy and powerful men with global influence and a taste for depravity.
Raised wild and poor in the shadows of the Mohawk Club, Evie Quimby was a teenager when she first fell victim to the Lost Boys. Seventeen years later, she is now a world-renowned art restorer famous for repairing even the most-broken statues. After spending half her life in Paris, establishing her reputation and raising her daughter Chloé, Evie has come a long way from the girl who left Rangeley behind. But when Chloé receives a visit from an elegant stranger who claims to be an old friend of her mother's, the ghosts of Evie's past return in full force, pulling her back to the North Country of her girlhood and into the tangled, intricate web of the Lost Boys. Evie bands together with her formidable mother and an embattled heiress, both victims of the Lost Boys, in pursuit of an unusual and heart-stopping vengeance.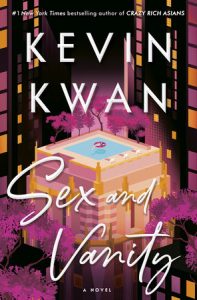 Sex and Vanity by Kevin Kwan
The iconic author of the bestselling phenomenon Crazy Rich Asians returns with the glittering tale of a young woman who finds herself torn between two men.
On her very first morning on the jewel-like island of Capri, Lucie Churchill sets eyes on George Zao and she instantly can't stand him. She can't stand it when he gallantly offers to trade hotel rooms with her so that she can have a view of the Tyrrhenian Sea, she can't stand that he knows more about Casa Malaparte than she does, and she really can't stand it when he kisses her in the darkness of the ancient ruins of a Roman villa.
The daughter of an American-born Chinese mother and a blue-blooded New York father, Lucie has always sublimated the Asian side of herself, and she adamantly denies having feelings for George. But several years later, when George unexpectedly appears in East Hampton, where Lucie is weekending with her new fiancé, she finds herself drawn to him again. Soon, Lucie is spinning a web of deceit that involves her family, her fiancé and ultimately herself, as she tries to deny George entry into her world – and her heart.
Moving between summer playgrounds of privilege, peppered with decadent food and extravagant fashion, Sex and Vanity is a truly modern love story, a daring homage to A Room with a View, and a brilliantly funny comedy of manners set between two cultures.