Get Ready to add some new titles to your "To Read" list!
These books can be checked out at the Andover Public Library or placed on hold through the Clevnet library collaborative.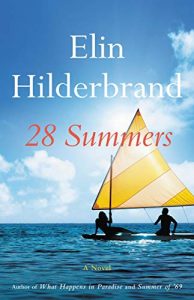 28 Summers by Elin Hilderbrand
When Mallory Blessing's son, Link, receives deathbed instructions from his mother to call a number on a slip of paper in her desk drawer, he's not sure what to expect. But he certainly does not expect Jake McCloud to answer. It's the late spring of 2020 and Jake's wife, Ursula DeGournsey, is the frontrunner in the upcoming Presidential election.
There must be a mistake, Link thinks. How do Mallory and Jake know each other?
Flash back to the sweet summer of 1993: Mallory has just inherited a beachfront cottage on Nantucket from her aunt, and she agrees to host her brother's bachelor party. Cooper's friend from college, Jake McCloud, attends, and Jake and Mallory form a bond that will persevere — through marriage, children, and Ursula's stratospheric political rise — until Mallory learns she's dying.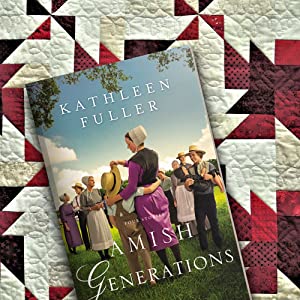 Amish Generations: Four Stories by Kathleen Fuller
Four sweet and funny Amish love stories, spanning four different generations. Love comes at all times and for all ages!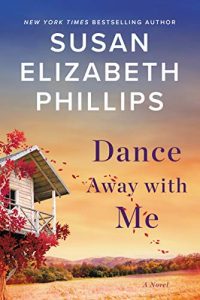 Dance Away with Me by Susan Elizabeth Phillips
When life throws her one setback too many, midwife and young widow Tess Hartsong takes off for Runaway Mountain. In this small town high in the Tennessee mountains, surrounded by nature, she hopes to outrun her heartbreak and find the solace she needs to heal.
But instead of peace and quiet, she encounters an enigmatic artist with a craving for solitude, a fairy-tale sprite with too many secrets, a helpless infant, a passel of curious teens, and a town suspicious of outsiders, especially one as headstrong as Tess. Just as headstrong, is Ian North, a difficult, gifted man with a tortured soul—a man who makes Tess question everything.
In running away to this new life, Tess wonders— Has she lost herself . . . or has she found her future?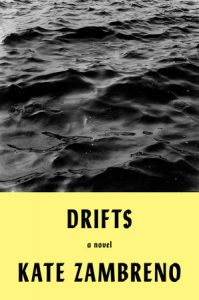 Drifts by Kate Zambreno
Beguiling and compulsively readable, Drifts is an intimate portrait of reading, writing, and creative obsession. At work on a novel that is overdue to her publisher, spending long days alone with her restless terrier, corresponding ardently with fellow writers, the novel's narrator grows obsessed with the challenge of writing the present tense, of capturing time itself. Entranced by the work of Rilke, Dürer, Chantal Akerman, and others, she photographs the residents and strays of her neighborhood, haunts bookstores and galleries, and records her thoughts in a yellow notebook that soon subsumes her work on the novel. As winter closes in, a series of disturbances—the appearances and disappearances of enigmatic figures, the burglary of her apartment—leaves her distracted and uncertain . . . until an intense and tender disruption changes everything.
A story of artistic ambition, personal crisis, and the possibilities and failures of literature, Drifts is a dramatic step forward for one of our most daring writers.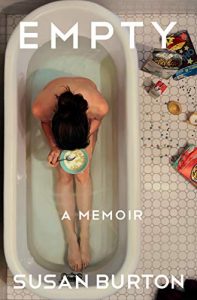 Empty: A Memoir by Susan Burton
Growing up, Susan Burton had never heard of binge-eating. She just knew she felt her best when she was empty, "like a straw", as she says "something you could blow through."
For almost thirty years, Susan Burton has hidden her obsession with food and the secret life of compulsive eating and starving that dominated her adolescence. This is the relentlessly honest, fiercely intelligent story of living with both anorexia and binge-eating disorder, moving past her shame, and learning to tell her secret.
When Burton was thirteen, her stable life in suburban Michigan was turned upside down by her parents' abrupt divorce, and she moved to Colorado with her mother and sister. She seized on this move west as an adventure and an opportunity to reinvent herself from middle-school nerd to popular teenage girl. But she hadn't escaped unscathed, and in the fallout from her parents' breakup, an inherited fixation on thinness went from "peculiarity to pathology." She entered into a painful cycle of anorexia and binge eating that formed a subterranean layer to her sunny life. She went from success to success–she went to Yale, scored a dream job at a magazine right out of college, and married her college boyfriend. But in college the compulsive eating got worse–she'd binge, swear it would be the last time, and then, hours later, do it again–and after she graduated she descended into anorexia, her attempt to "quit food."
Binge eating is more prevalent than anorexia or bulimia, but there is less research and little storytelling to help us understand it. In tart, soulful prose Susan Burton strikes a blow for the importance of this kind of story; brings to life an indelible cast of characters; and tells an exhilarating story of longing, compulsion and hard-earned self-revelation.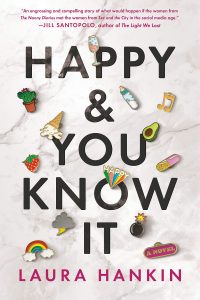 Happy and You Know It by Laura Hankin
(As of 6/24/2020, this title had not been added to the Clevnet catalog in print version. It is currently available as e-book and digital audio book.)
A dark, witty page-turner set around a group of wealthy mothers and the young musician who takes a job singing to their babies and finds herself pulled into their glamorous lives and dangerous secrets….
After her former band shot to superstardom without her, Claire reluctantly agrees to a gig as a playgroup musician for overprivileged infants on New York's Park Avenue. Claire is surprised to discover that she is smitten with her new employers, a welcoming clique of wellness addicts with impossibly shiny hair, who whirl from juice cleanse to overpriced miracle vitamins to spin class with limitless energy.
There is perfect hostess Whitney who is on the brink of social-media stardom and just needs to find a way to keep her perfect life from falling apart. Caustically funny, recent stay-at-home mom Amara who is struggling to embrace her new identity. And old money, veteran mom Gwen who never misses an opportunity to dole out parenting advice. But as Claire grows closer to the cool women who pay her bills, she uncovers secrets and betrayals that no amount of activated charcoal can fix.
Filled with humor and shocking twists, Happy and You Know It is a brilliant take on motherhood—exposing it as yet another way for society to pass judgment on women—while also exploring the baffling magnetism of curated social-media lives that are designed to make us feel unworthy. But, ultimately, this dazzling novel celebrates the unlikely bonds that form, and the power that can be unlocked, when a group of very different women is thrown together when each is at her most vulnerable.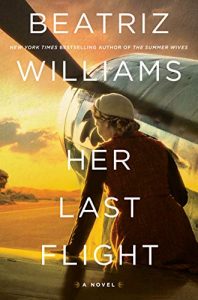 Her Last Flight by Beatriz Williams
In 1947, photographer and war correspondent Janey Everett arrives at a remote surfing village on the Hawaiian island of Kauai to research a planned biography of forgotten aviation pioneer Sam Mallory, who joined the loyalist forces in the Spanish Civil War and never returned. Obsessed with Sam's fate, Janey has tracked down Irene Lindquist, the owner of a local island-hopping airline, whom she believes might actually be the legendary Irene Foster, Mallory's onetime student and flying partner. Foster's disappearance during a round-the-world flight in 1937 remains one of the world's greatest unsolved mysteries.
At first, the flinty Mrs. Lindquist denies any connection to Foster. But Janey informs her that the wreck of Sam Mallory's airplane has recently been discovered in a Spanish desert, and piece by piece, the details of Foster's extraordinary life emerge: from the beginnings of her flying career in Southern California, to her complicated, passionate relationship with Mallory, to the collapse of her marriage to her aggressive career manager, the publishing scion George Morrow.
As Irene spins her tale to its searing conclusion, Janey's past gathers its own power. The duel between the two women takes a heart stopping turn. To whom does Mallory rightfully belong? Can we ever come to terms with the loss of those we love, and the lives we might have lived?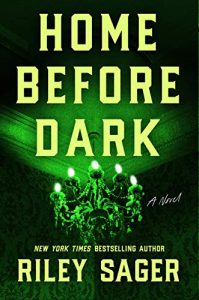 Home Before Dark by Riley Sager
(As of 6/24/2020, this title had not been added to the Clevnet catalog. Due to issues from the Covid – 19 pandemic, some publishers are delayed. You can check the catalog to see if it is available here.)
Maggie Holt is used to such questions. Twenty-five years ago, she and her parents, Ewan and Jess, moved into Baneberry Hall, a rambling Victorian estate in the Vermont woods. They spent three weeks there before fleeing in the dead of night, an ordeal Ewan later recounted in a nonfiction book called House of Horrors. His tale of ghostly happenings and encounters with malevolent spirits became a worldwide phenomenon, rivaling The Amityville Horror in popularity—and skepticism.
Today, Maggie is a restorer of old homes and too young to remember any of the events mentioned in her father's book. But she also doesn't believe a word of it. Ghosts, after all, don't exist. When Maggie inherits Baneberry Hall after her father's death, she returns to renovate the place to prepare it for sale. But her homecoming is anything but warm. People from the past, chronicled in House of Horrors, lurk in the shadows. And locals aren't thrilled that their small town has been made infamous thanks to Maggie's father. Even more unnerving is Baneberry Hall itself—a place filled with relics from another era that hint at a history of dark deeds. As Maggie experiences strange occurrences straight out of her father's book, she starts to believe that what he wrote was more fact than fiction.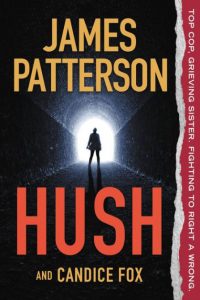 Hush by James Patterson, Candice Fox
Top cop, grieving sister, fighting to right a wrong – Harriet Blue continues to seek justice for the murder of her brother, even behind prison bars.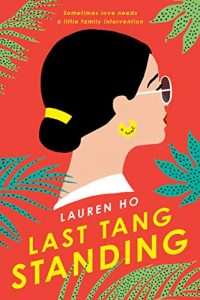 Last Tang Standing by Lauren Ho
Crazy Rich Asians meets Bridget Jones's Diary in this funny and irresistible debut novel about the pursuit of happiness, surviving one's thirties intact, and opening oneself up to love.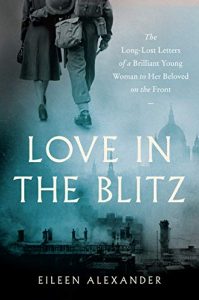 Love in the Blitz: The Long-Lost Letters of a Brilliant Young Woman to Her Beloved on the Front by Eileen Alexander
On July 17th 1939, Eileen Alexander, a bright young woman recently graduated from Girton College, Cambridge, begins a brilliant correspondence with fellow Cambridge student Gershon Ellenbogen that lasts five years and spans many hundreds of letters.
But as Eileen and Gershon's relationship flourishes from friendship and admiration into passion and love, the tensions between Germany, Russia, and the rest of Europe reach a crescendo. When war is declared, Gershon heads for Cairo and Eileen forgoes her studies to work in the Air Ministry.
As cinematic as Atonement, written with the intimacy of the Neapolitan quartet, Love in the Blitz is an extraordinary glimpse of life in London during World War II and an illuminating portrait of an ordinary young woman trying to carve a place for herself in a time of uncertainty. As the Luftwaffe begins its bombardment of England, Eileen, like her fellow Britons, carries on while her loved ones are called up to fight, some never to return home.
Written over the course of the conflict, Eileen's letters provide a vivid and personal glimpse of this historic era. Yet throughout the turmoil and bloodshed, one thing remains constant: her beloved Gershon, who remains a source of strength and support, even after he, too, joins the fighting. Though his letters have been lost to time, the bolstering force of his love for Eileen is illuminated in her responses to him.
Equal parts heartrending and heartwarming, Love in the Blitz is a timeless romance and a deeply personal story of life and resilience amid the violence and terror of war.
Mrs. Lincoln's Sisters by Jennifer Chiaverini
In May 1875, Elizabeth Todd Edwards reels from news that her younger sister Mary, former First Lady and widow of President Abraham Lincoln, has attempted suicide.
Mary's shocking act followed legal proceedings arranged by her eldest and only surviving son that declared her legally insane. Although they have long been estranged, Elizabeth knows Mary's tenuous mental health has deteriorated through decades of trauma and loss. Yet is her suicide attempt truly the impulse of a deranged mind, or the desperate act of a sane woman terrified to be committed to an asylum? And—if her sisters can put past grievances aside—is their love powerful enough to save her?
Maternal Elizabeth, peacemaker Frances, envious Ann, and much adored Emilie had always turned to one another in times of joy and heartache, first as children, and later as young wives and mothers. But when Civil War erupted, the conflict that divided a nation shattered their family. The Todd sisters's fates were bound to their husbands' choices as some joined the Lincoln administration, others the Confederate Army.
Now, though discord and tragedy have strained their bonds, Elizabeth knows they must come together as sisters to help Mary in her most desperate hour.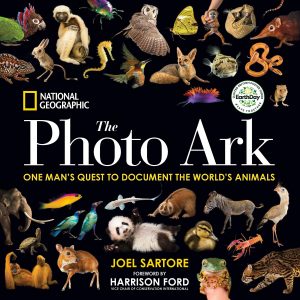 National Geographic the Photo Ark: One Man's Quest to Document the World's Animals by Joel Satore, Harrison Ford, Douglas H Chadwick
Joel Sartore is committed to documenting every animal in captivity–with a focus on the growing list of endangered species and those facing extinction–circling the globe, visiting zoos and wildlife rescue centers to create studio portraits of 12,000 species. Paired with the eloquent prose of veteran wildlife writer Douglas Chadwick, and with a foreword by Harrison Ford, Sartore's animal portraits are riveting: from tiny to mammoth, from the Florida grasshopper sparrow to the greater one-horned rhinoceros. Now, with the accelerating pace of climate change and its devastating effect on wildlife habitat, his book presents a more urgent argument for saving all the species of our planet.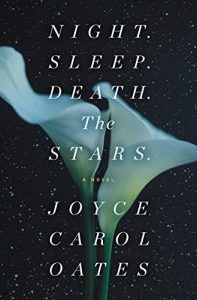 Night. Sleep. Death. the Stars. By Joyce Carol Oates
Night Sleep Death The Stars is a gripping examination of contemporary America through the prism of a family tragedy: when a powerful parent dies, each of his adult children reacts in startling and unexpected ways, and his grieving widow in the most surprising way of all.
Stark and penetrating, Joyce Carol Oates's latest novel is a vivid exploration of race, psychological trauma, class warfare, grief, and eventual healing, as well as an intimate family novel in the tradition of the author's bestselling We Were the Mulvaneys.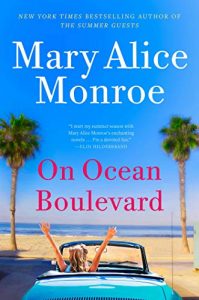 On Ocean Boulevard by Mary Alice Monroe
It's been sixteen years since Caretta "Cara" Rutledge has returned home to the beautiful shores of Charleston, South Carolina. Over those years, she has weathered the tides of deaths and births, struggles and joys. And now, as Cara prepares for her second wedding, her life is about to change yet again.
Meanwhile, the rest of the storied Rutledge family is also in flux. Cara's niece Linnea returns to Sullivan's Island to begin a new career and an unexpected relationship. Linnea's parents, having survived bankruptcy, pin their hopes and futures on the construction of a new home on Ocean Boulevard. But as excitement over the house and wedding builds, a devastating illness strikes the family and brings plans to a screeching halt. It is under these trying circumstances that the Rutledge family must come together yet again to discover the enduring strength in love, tradition, and legacy from mother to daughter to granddaughter.
Like the sea turtles that come ashore annually on these windswept islands, three generations of the Rutledge family experience a season of return, rebirth, and growth.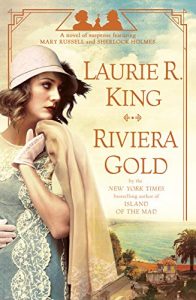 Riviera Gold: A Novel of Suspense Featuring Mary Russell and Sherlock Holmes by Laurie R King
It's summertime on the Riviera, and the Jazz Age has come to France's once-sleepy beaches. From their music-filled terraces, American expatriates gaze along the coastline at the lights of Monte Carlo, where fortunes are won, lost, stolen, and sometimes hidden away. When Mary Russell and Sherlock Holmes arrive, they find their partnership pulled between youthful pleasures and old sins, hot sun and cool jazz, new affections and enduring loyalties.
Russell falls into easy friendship with an enthralling American couple, Sara and Gerald Murphy, whose golden life on the Riviera has begun to attract famous writers and artists—and some of the scoundrels linked with Monte Carlo's underworld. The Murphy set will go on to inspire everyone from F. Scott Fitzgerald to Pablo Picasso, but in this summer of 1925, their importance for Russell lies in one of their circle's recent additions: the Holmeses' former housekeeper, Mrs. Hudson, who hasn't been seen since she fled England under a cloud of false murder accusations.
When a beautiful young man is found dead in Mrs. Hudson's front room, she becomes the prime suspect in yet another murder. Russell is certain of Mrs. Hudson's innocence; Holmes is not. But the old woman's colorful past has been a source of tension between them before, and now the dangerous players who control Monte Carlo's gilded casinos may stop at nothing to keep the pair away from what Mrs. Hudson's youthful history could bring to light.
The Riviera is a place where treasure can be false, where love can destroy, and where life, as Mary Russell and Sherlock Holmes will discover, can be cheap—even when it is made of solid gold.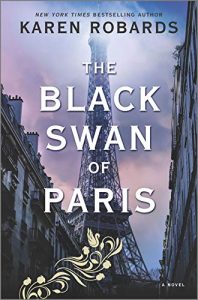 The Black Swan of Paris by Karen Robards
Paris, 1944
Celebrated singer Genevieve Dumont is both a star and a smokescreen. An unwilling darling of the Nazis, the chanteuse's position of privilege allows her to go undetected as an ally to the resistance.
When her estranged mother, Lillian de Rocheford, is captured by Nazis, Genevieve knows it won't be long before the Gestapo succeeds in torturing information out of Lillian that will derail the upcoming allied invasion. The resistance movement is tasked with silencing her by any means necessary—including assassination. But Genevieve refuses to let her mother become yet one more victim of the war. Reuniting with her long-lost sister, she must find a way to navigate the perilous cross-currents of Occupied France undetected—and in time to save Lillian's life.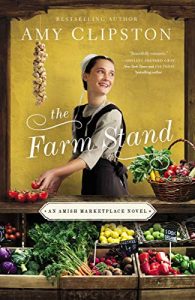 The Farm Stand by Amy Clipston
Experience some sweet, garden-fresh romance in the next installment of Amy Clipston's Amish Marketplace series.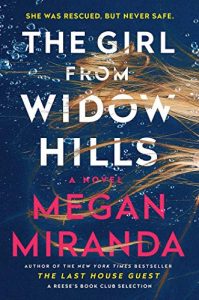 The Girl from Widow Hills by Megan Miranda
Arden Maynor was just a child when she was swept away while sleepwalking during a terrifying rainstorm and went missing for days. Strangers and friends, neighbors and rescue workers, set up search parties and held vigils, praying for her safe return. Against all odds, she was found, alive, clinging to a storm drain. The girl from Widow Hills was a living miracle. Arden's mother wrote a book. Fame followed. Fans and fan letters, creeps, and stalkers. And every year, the anniversary. It all became too much. As soon as she was old enough, Arden changed her name and disappeared from the public eye.
Now a young woman living hundreds of miles away, Arden goes by Olivia. She's managed to stay off the radar for the last few years. But with the twentieth anniversary of her rescue approaching, the media will inevitably renew its interest in Arden. Where is she now? Soon Olivia feels like she's being watched and begins sleepwalking again, like she did long ago, even waking outside her home. Until late one night she jolts awake in her yard. At her feet is the corpse of a man she knows—from her previous life, as Arden Maynor.
And now, the girl from Widow Hills is about to become the center of the story, once again, in this propulsive page-turner from suspense master Megan Miranda.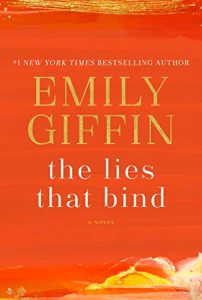 The Lies That Bind by Emily Griffen
It's 2 a.m. in a dive bar on the Lower East Side, May 2001. Cecily figures it's the perfect place to order a beer and try to forget that she's just been dumped by the man she suspects she'll always think of as The One Who Got Away. Her best friend warned her to hunker down and avoid any risk of late-night drunk dialing, and she should have listened, because she's so tempted. . . .
"Don't do it," says the guy on the barstool next to her. "Don't call him."
He talks her off the ledge, and they have another beer. Then at last call, they toast to "moving on" before going their separate ways. Except as she's about to say goodbye, she decides to ask his name instead. And just like that, her life is changed forever.
But has she found her soulmate only to lose him a few months later?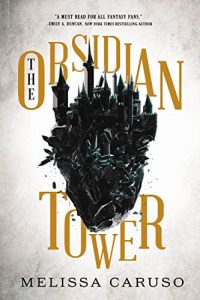 The Obsidian Tower by Melissa Caruso
The mage-marked granddaughter of a ruler of Vaskandar, Ryx was destined for power and prestige at the top of Vaskandran society. But her magic is broken; all she can do is uncontrollably drain the life from everything she touches, and Vaskandar has no place for a mage with unusable powers.
Then, one night, two terrible accidents befall her: Ryx accidentally kills a visiting dignitary in self-defense, activating a mysterious magical artifact sealed in an ancient tower in the heart of her family's castle.
Ryx flees, seeking a solution to her deadly magic. She falls in with a group of unlikely magical experts investigating the disturbance in Vaskandar—and Ryx realizes that her family is in danger and her domain is at stake. She and her new colleagues must return to the family stronghold to take control of the artifact that everyone wants to claim—before it destroys the world.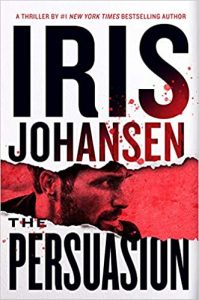 The Persuasion by Iris Johansen
Forensic sculptor Eve Duncan and ex-Navy Seal Joe Quinn are about to give Seth Caleb their trust for the most important duty of his life: keeping their daughter, Jane, safe at any cost. Her talent as an artist has caught the attention of a brilliant psychopath with a violent past.
Seth, Jane's strongest ally and fiercest protector, is determined to keep her out of danger, but that becomes nearly impossible when Jane is forced to take matters into her own hands and confronts the madman who wants her for himself…and wants Seth Caleb dead.
As Jane and Seth chase down their blood-thirsty adversary, they also have to reckon with their own epic love story. Can they finally commit to a life together, no matter how uncertain? As the two come face to face with danger, one thing is made clear: it will take both of them to confront and defeat this evil.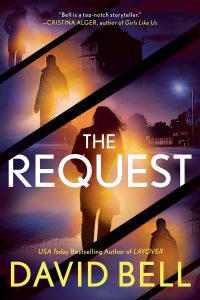 The Request by David Bell
Ryan Francis has it all–great job, wonderful wife, beautiful child–and he loves posting photos of his perfect life on social media. Until the night his friend Blake asks him to break into a woman's home to retrieve incriminating items that implicate Blake in an affair. Ryan refuses to help, but when Blake threatens to reveal Ryan's darkest secret–which could jeopardize everything in Ryan's life–Ryan has no choice but to honor Blake's request.
When he arrives at the woman's home, Ryan is shocked to find her dead–and just as shocked to realize he knows her. Then his phone chimes, revealing a Facebook friend request from the woman. With police sirens rapidly approaching, Ryan flees, wondering why his friend was setting him up for murder.
Determined to keep his life intact and to clear his name, Ryan must find the real murderer–but solving the crime may lead him closer to home than he ever could have imagined.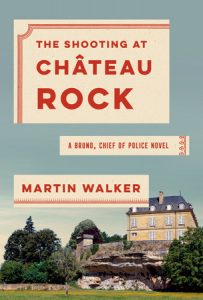 The Shooting at Chateau Rock: A Bruno, Chief of Police Novel by Martin Walker
When a local's troubling death is linked to a Russian oligarch and his multinational conglomerate, Bruno faces one of his toughest cases yet, one that brings together a French notary and a rock star–and, of course, Bergerac red and white.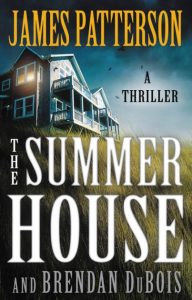 The Summer House by James Patterson, Brendan DuBois
When seven murder victims are found in a small town, the homicide investigation shakes a small-town sheriff to her core in James Patterson's tense thriller.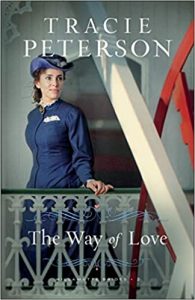 The Way of Love by Tracie Peterson
Williamette Brides #2
Faith Kenner is pursuing her dream to become a doctor and use her gift to help the native populations on reservations. When she meets Andrew Gratton, a handsome riverboat captain who has been injured, a friendship grows between them–but will the secret of her heritage and rising tensions with the native people prevent them from finding true happiness?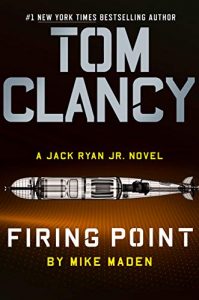 Tom Clancy Firing Point by Mike Madden
Jack Ryan, Jr is out to avenge the murder of an old friend, but the vein of evil he's tapped into may run too deep for him to handle in the latest electric entry in the #1 New York Times bestselling series.