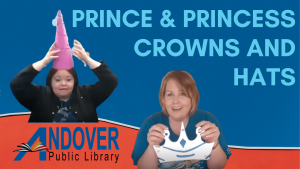 Create a Crown or Hat!
Princess Hats and Crowns
Supplies:
Poster board
Glue or tape
Ribbon
Gems
Instructions:
Wrap the poster board like a cone and taped it in place
Test it out for size
Then cut the bottom edge straight around.
Add gems, ribbons, to your hat.
Glue or tape lengths of tulle to the top of your hat.
Your Princess hat is complete
Prince Crowns
Supplies:
2 crown templates printable pdf prince hats
Gems, ribbons
Markers, crayons
Instructions:
Cut out crowns
Tape them together
Decorate with gems, ribbons or color
Your Crown is completed