Share a book with Dad this Father's Day!
June 16, 2020 by Maria Firkaly
If you plan on celebrating a dad this coming Father's Day, we put together some great books to share. Some are available in print from our library shelves. (Call us to pick one up curbside! 440-293-6792) Others are available as e-books or audio books on our Libby app. As always if you need any help, let us know.
Featured Children's Book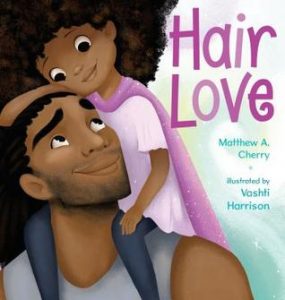 Hair Love by Matthew A. Cherry Libby e-book and audio book
When mommy is away, it's up to daddy to do his daughter's hair in this ode to self-confidence and the love between fathers and daughters from former NFL wide receiver Matthew A. Cherry and New York Times bestseller Vashti Harrison.
Also, check out the Oscar winning short film based on the story on Youtube. https://youtu.be/kNw8V_Fkw28
Available In Print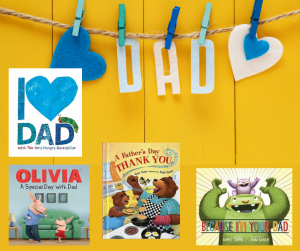 The son of an unconventional father promises a similar childhood for his newborn.
With her mom taking her brothers to a soccer game, Olivia and her dad get to spend a whole day together.
The very hungry caterpillar shows appreciation, and love, for all the things fathers do for their children.
Harvey the bear searches for the perfect Father's Day present and decides that thanking his dad is the best gift of all.
Digital Children's Books
Fun Books for Dad
Are You Turning into Your Dad? will help you determine whether or not you are actually turning into your dad (answer: probably) — and whether the trappings of middle age are the ultimate in lame or rites of comfort that may be worth embracing.
A massive collection of laughable, cheesy jokes perfect for amusing dads while slightly embarrassing the kids.
The author of Life Hacks returns with this indispensable, fully illustrated manual—featuring 112 ingenious yet simple tricks, shortcuts, and ideas—every dad needs to solve a host of everyday annoyances and dilemmas.