by Maria Firkaly
"Going to the Birds." When people say something is "going to the birds", they are describing a situation that is not to be taken seriously or it's no good. When we decided to devote the month of February to birds, we were very serious. We might be bragging, but it was a month full of successful and engaging programs. Far from being "no good", our month of bird themed crafts and programs wasn't just good, February was awesome.
Bird Crafts

Craft time was a hit this month. If you dared stop in and use a glue gun with us ….
You came in and made a flock of little Book Page Birds. It was an easy and quick craft.
Then you dropped in to make the adorable Cork Owls. Pushing in those little pin eyes was a bit of a challenge, but you had fun meeting new friends and spending time with family members.
The Yarn Birds took a little more time, but the result was the sweet little songbirds. You chose the colors and made them your own unique creation.
Finally, your little ones made Snowy Owls and had a snack of "Bird Seed" (mix of oat cereal, yogurt covered raisins, chocolate pieces, and pretzels … my kind of bird seed).
Educational Programs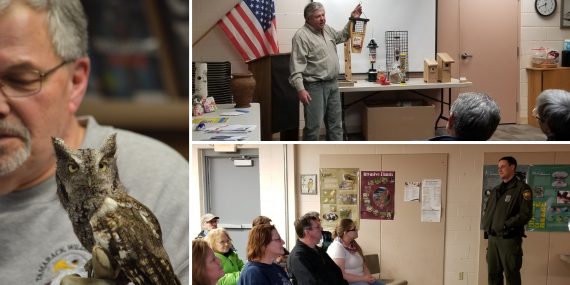 If you made it out to our educational programs in February, you learned about …
Bird Feeding Tips from Mark Meyers. He drew you in to learn about one of our favorite hobbies. Mark was a great speaker and we hope to bring him back again soon.
The Conservation and Preservation of Pymatuning's Wildlife presented by ODNR Officer Jason Warren. Many of you commented on how much you learned about our local animal species and were surprised to find out how many had been on the endangered list in the past. Jason explained the efforts locally to bring back the Bald Eagle population and what we can do to help.
Birds of Prey. Wow. It was standing room only, but you didn't complain. The folks from Tamarack Wildlife Center entertained and educated us all. Weren't the birds magnificent? Thank to Richard and Janelle, we now have a little more love in our hearts for the opossum, too. (Take a look at photos from this event.)
If you attended a craft or educational program, we loved sharing the experiences with you. If you couldn't join us in "Going to the Birds", it's okay, we understand. We do hope to see you soon, because we are taking this "Little Library doing Big Things" state of mind seriously. And that's a VERY good thing.