Date/Time
Date(s) - Mon, 06/22/20/Fri, 07/24/20
All Day

Location
Andover Public Library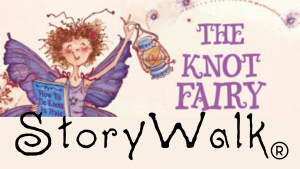 All Ages
The Knot Fairy Storywalk®
Reading a story together is fun, reading one outside while you stroll through the library garden is even more fun! Discover the story of The Knot Fairy by Bobbie Hinman displayed on 30 story boards throughout the Andover Public Library Reading Garden. Look for the Knot Fairies hidden in the garden, too! Try to find them all and count them as you walk and read.
This is an "Imagine Your Story" Summer Reading Program. Want to participate in Summer Reading? Sign up for all the fun summer activities! See all the information here!
The StoryWalk® Project was created by Anne Fergusonof Montpelier, VT and developed in collaboration with the Kellogg-HubbardLibrary. Storywalk® is a registered service mark owned by Ms. Ferguson.