Date/Time
Date(s) - Fri, 04/05/19
12:00 pm - 1:00 pm

Location
Andover Public Library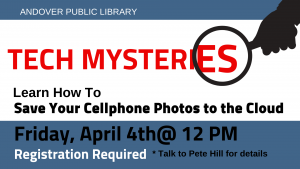 Adults
Learn how to free up storage space on your device, avoid permanent loss of photo memories, and retain convenient access to your photos.
Educational Program presented by Andover Public Library Technology Trainer, Peter Hill. Read more …
Peter Hill will help you unravel the deep mysteries of cloud storage and how pictures are stored on your mobile device (cellphones and tablets). Bring your device and its charging cable to learn how to transfer photos from your phone or tablet to cloud storage.
This program is geared for Android device users. To get the most out of the program, it is highly recommended that you have a valid Gmail account established and that you know the account's username and password.
If you do not have an Android device, do not have a valid Gmail account, or you do not know the account username or password, please contact Peter Hill for assistance and more information at 440-293-6792.
Register for Tech Mysteries: Save Your Cellphone Photos to the Cloud