Date/Time
Date(s) - Sat, 01/19/19
10:00 am - 1:00 pm

Location
Andover Public Library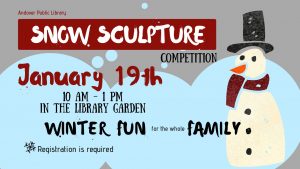 Andover Public Library is hosting the 1st Annual Snow Sculpture Competition to allow community members to put their creativity to the test as they compete to build the ultimate snow sculpture. Sculptures will be created in the library garden.
All ages are invited to participate. Groups with participants 13 and younger must have at least one adult aged 18 or older in the group. Maximum of 6 people per group.
Sculptures should represent the "Inspiration at the Library" theme. The sculptures can be anything from snowmen to forts, or even ice sculptures, as long as they do not portray obscene images. Remember this is a family friendly event.
Contestants will have three hours to build their sculpture. The sculptures will be judged at 1 PM the same day. In the event that we do not have snow (or enough snow) to hold the competition, the Andover Public Library will provide indoor/outdoor "snow" activities.
See official Rules & Guidelines at https://tinyurl.com/yatpuk2d
Register online at https://tinyurl.com/ycfyzq5e or register in person at the library. Call 440-293-6792 for additional information