Date/Time
Date(s) - Mon, 03/23/20
5:30 pm - 7:00 pm

Location
Andover Public Library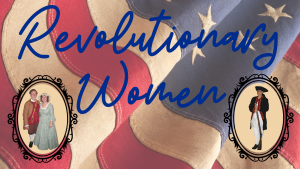 PROGRAM CANCELED
All Ages
Revolutionary Women presented by Venie Hinson and Suellyn Wright Novak
Monday, March 23 at 5:30 PM in the adult reading section.
Venie Hinson will be dressed in period clothing, common for women during the late 1700's in America. Her portion of the presentation focuses on the activities of women during that time period, with personal stories of her female family members passed on through the generations. Venie will also discuss how the American Revolutionary War set in motion the freeing of slaves in the United States.
Suellyn Wright Novak will be dressed in period military attire. Suellyn's portion of the presentation will focus on women's roles in battle. She will specifically focus on the stories Deborah Sampson and Mary Ludwig Hays.
The program begins at 5:30 PM with Venie Hinson's presentation, a brief intermission with refreshments at approximately 6:15 PM, and Suellyn Novak's presentation at 6:30 PM.
No registration required. Call 440-293-6792 for additional information.