Date/Time
Date(s) - Fri, 05/31/19
8:00 am - 5:30 pm

Location
Andover Public Library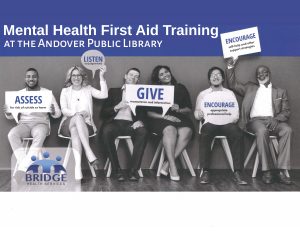 Adult Program
Participants will receive a 3-year certification after completion. Read More…
Mental Health First Aid teaches you how to identify, understand, and respond to signs of mental illness and substance abuse disorders. This 8-hour training gives you the skills you need to reach out and provide initial supports to someone who may be developing a mental health or substance abuse problem and connect them to appropriate care.
Who should take it:
Employers
Police Officers
Hospital Staff
First Responders
Faith Leaders
Community Members
Caring Individuals
What it covers:
Common signs and symptoms of mental illness
Common signs and symptoms of substance abuse
How to interact with a person in crisis
How to connect the person with help
How to administer naloxone in the event of an opioid overdose
*Participants will receive a 3-year Mental Health First Aid Certification
Pre-registration is required. Call 440-293-6792 to register.
Breakfast & Lunch included. This is a FREE program.
This program made possible thanks to a grant from the Federal Institute of Museum and Library Services (IMLS), awarded by the State Library of Ohio