Date/Time
Date(s) - Mon, 06/29/20/Thu, 07/23/20
All Day

Location
Andover Public Library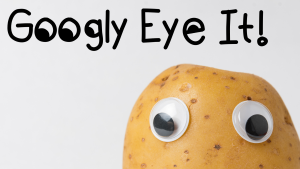 Adults and Teens 12 and up
Googly Eye It!
We'll provide the googlies, you provide the creativity. Supplies limited, registration required. Read more…
Eyebombing is the art of sticking "googly eyes" onto an inanimate object, that cleverly lends the object the appearance of a living creature. Ultimately the goal is to bring sunshine to people passing by and make yourself smile.
Here are some guidelines to follow:
Do not place the items on things that belong to others without their permission. Basically, be considerate.
Do not deface private or public property .. you will likely get in trouble. We do not wish you to have any altercations with authority figures, okay?
Typically the googly eyes are easy to remove. Using "Magic Tape" on the backs may be a good idea if you are placing the eyes on surfaces that could be damaged by the googly eye sticky backing. We've warned you .. we are not responsible if you stick these somewhere and cannot remove them. Do not apply stronger glues, for Pete's Sake.
How to participate:
Register for the program at Summer Reading Registration or by calling 440-293-6792 (beginning June 4, 2020) and receive a bag of googlies the week prior to the event. (You can participate without registering, but you have to provide your own googlies.)
Place googly eyes on things. (see guidelines above)
Take a photo or make a video of the things with googlies. You may want to record someone's reaction, could be fun .. don't be mean. Of course you won't be mean .. why would you?
Tag your photo on Instagram, Facebook, Twitter, YouTube, TicTok using #AndoverSRgotgoogly. Not a social media fan? You can send us your photo using the form at the bottom of this page or drop them off at the library.
If you run out of the googlies we give you, you are welcome to use your own or even make some on paper!
Have questions? Give us a call at 440-293-6792 or message us on