Date/Time
Date(s) - Mon, 03/16/20
5:45 pm - 6:45 pm

Location
Andover Public Library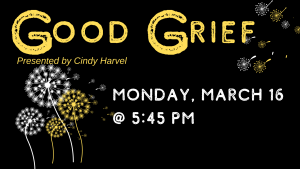 PROGRAM CANCELED
All Ages Program * Registration Required
Good Grief presented by Cindy Harvel
Monday, March 16 at 5:45 PM
Are you struggling with grief? This special program is open to all who are in the midst of suffering due to a death, divorce, abuse, or abandonment. Read more …
Program participants will be given interactive materials to work and talk through during the hour. You can choose to just listen or feel free to share aloud. The materials include:
Steps of the Grief Cycle by Elisabeth Kubler-Ross
Where am I in the 7 Stages of Grief
Letting Go of "Stuck Thoughts"
Good Self Talk
Steps Toward Healing and Wholeness
Cindy Harvel's presentation will include:
A Time to grieve
Experiencing Grief
Finding Hope & Healing
Rebuilding & Remembering
Cindy Harvel is a pastor's wife and teacher. Serving currently as an online professor for Mount Vernon Nazarene University, Cindy has taught for many years as a sixth grade science teacher, high school math and physics teacher, and university education, science, and physics professor. For five years, she worked at an International School in China, serving as a counselor. Her work during this time started her research into help for those who are grieving. Ric, her husband, serves as a pastor at First United Methodist Church of Andover. Ric and Cindy love leading studies in their home and church, and are thankful to do volunteer teaching once a year in China. She appreciates time in the outdoors and enjoys swimming, fishing, hiking, biking, and simply being in the middle of God's amazing creation.