Date/Time
Date(s) - Mon, 07/06/20/Mon, 08/31/20
All Day

Location
Andover Public Library
All Ages
Find Pete the Dragon
Pete the Dragon (who looks a LOT like our Technology Trainer, Pete) has been spotted flying around the Pymatuning Lake area. While we are not sure how his tiny pink wings can carry him, several local businesses assure us he has visited them. Follow the clues posted each week and find Pete's poster. Scan the QR Code and enter to win gift certificates to local businesses and more. (We can't tell you what the prizes are because then you will know where Pete is … so you'll just have to wait!) Eight winners in total. Winners must be able to pick-up their prize at the Andover Public Library by September 18, 2020. Read more…
What to do?
A new clue will be posted each week beginning July 6. You can check the library page on Facebook or this event page.
Here's how to play
Find the location and scan the QR code located on a Pete the Dragon poster. All the participating businesses have the poster located on an exterior window or door. You can visit the location and play along even if the business is closed.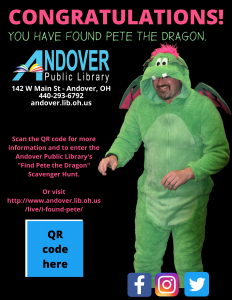 Find the location and visit http://www.andover.lib.oh.us/live/i-found-pete/ to enter. This event is in partnership with local businesses and they have donated they prizes. Please do not guess and enter multiple answers. We have the right to disqualify entries that we suspect did not play fairly.
Clue #1: If you are looking for Pete, he wanted something sweet. He flew not far away. He was feeling kneady and heard this place had a lot of dough. (This is a bakery)
Clue #2: Pete left his library roost and flew across Pymatuning. He stopped at this place for some fishing bait and then tried a little trick. He sat among the statuary in the front of this Place pretending he was made of stone. (This is a bait store)
Clue #3: Pete was hanging out on the library lawn and was getting very hot. He spied some folks walking out of this place eating frozen treats. This place is VERY close to the library and Pete just had to walk .. not tiresome flying needed. Now he is cooled off and enjoyed a tasty and creamy dessert. (This is an ice-cream shop)
Clue #4: Pete heard of a Shoppe that sounded just right for a Green dragon to visit. He flew across Pymatuning and past the Spillway. In the town of lines he stopped by this place and left with some environmentally friendly treasure. Dragons love treasure! (This shop is in Linesville)
Clue #5: Pete found something sweet and last week he ate a frozen treat. This week Pete wants some meat! (This is a butcher shop)
Clue #6: Pete enjoys a good take out meal, too. He's flown over Pymatuning again and found this place between the Causeway and the Spillway. They have great burgers, but their specialties are usually covered in sauce. Pete recommends plenty of napkins! (This place is a BBQ restaurant)
Clue #7: Pete felt like going fishing again but he stayed on the Ohio side of Pymie. He caught a nice bass! He used bait and a new fishing pole from this business. They took a picture of him outside since they are so close to Pymatuning, he could walk across the road to the park. (This place is a bait shop)
Clue #8: This business is in Andover. Pete thinks driving a golf cart would be neat! He stopped here to check one out. They had so many cool golf carts for sale, he couldn't make up his mind. (This place sells golf carts)
Clue #9: Pete's last stop is on the square in Andover. They have snacks, pizza, and a new name! (This place also sells gasoline)