Adult Programs
Upcoming Events
Wed, 08/12/20/Tue, 10/13/20, 10:00 am - 7:00 pm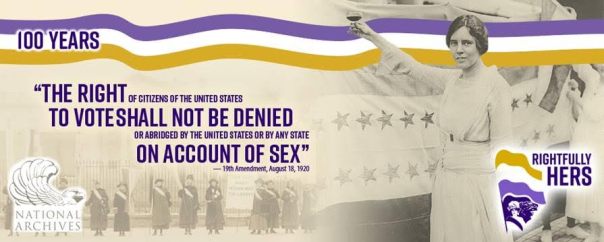 All Ages
Rightfully Hers
Beginning Wednesday, August 12, 2020 the Andover Public Library will host a new popup exhibition from the National Archives, Rightfully Hers, commemorating the 100th anniversary of the ratification of the 19th Amendment. Rightfully Hers contains simple messages exploring the history of the ratification of the 19th amendment, women's voting rights before and after the 19th, and its impact today. Despite decades of marches, petitions, and public debate to enshrine a woman's right to vote in the constitution, the 19th Amendment – while an enormous milestone – did not grant voting rights for all. The challenges of its passage reverberate to the ongoing fight for gender equity today. This exhibit runs through October 13, 2020 .
Rightfully Hers co-curator Jennifer N. Johnson states:
"The ratification of the 19th Amendment was a landmark moment in American history that dramatically changed the electorate, and although it enshrined in the U.S. Constitution fuller citizenship for women many remained unable to vote."
Rightfully Hers is organized by the National Archives and Records Administration. In celebration of the 100th anniversary of the 19th Amendment, the National Archives has launched a nationwide initiative and major exhibition that explores the generations-long fight for universal woman suffrage. The exhibition is presented in part by the Women's
Suffrage Centennial Commission and the National Archives Foundation through the generous support of Unilever, Pivotal Ventures, Carl M. Freeman Foundation in honor of Virginia Allen Freeman, AARP, and Denise Gwyn Ferguson.
Mon, 09/07/20/Fri, 10/02/20, All Day

All Ages
Coloring Contest
Coloring has benefits for our mental health and many people really enjoy it as a hobby! Join us in a fun coloring contest, featuring coloring pages for all ages. Here's how it works:
Download and print off the coloring page for you or your child's age group. You can also pick up the coloring sheets pre-printed at the library. Just stop by and let us know you are here. We are open Monday – Friday from 10 AM to 7 PM.
Have fun coloring!
Name, age (if under 18), and phone number need to be written on the back of the coloring sheet.
Drop off or mail in your finished art work on or before Friday, October 2, 2020.

Read more …
Mon, 09/07/20/Mon, 10/05/20, All Day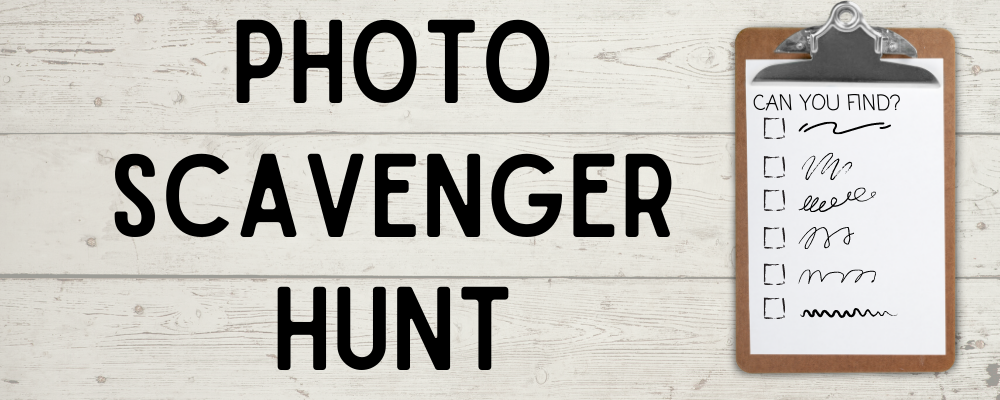 Photo Scavenger Hunt
Taking only Pictures, Leaving only footprints
Win a new Polaroid iEX29 18MP 10x Optical Zoom Compact Digital Camera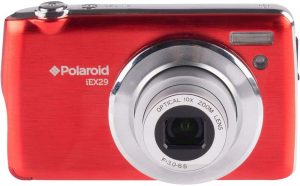 WHAT IS A PHOTO SCAVENGER HUNT?
A photo scavenger hunt is just a scavenger hunt with a camera. It works the same as a regular scavenger hunt
except instead of collecting items you are just collecting photos of the items.
Rules and Guidelines:
1. This Contest is open to ages 10 and up. Below age 10 may participate with a group or with an adult.
2. All Photos must be submitted using the form on our website.
3. Each person will be allowed to enter only one (1) photo of each item. If more than one (1) photo is
submitted, that item will be disqualified.
4. In your submission make sure you include your name, phone number, what you are photographing
and its item#.
5. You may NOT take a picture of a photo of a bird, nor may you find the image online and pretend that
you took the pic.
6. Please do not submit blurry photos, if we cannot see the item clearly it will be disqualified.
7. Photos should include yourself or a family/team member in the picture, unless it unsafe or dangerous.
8. All completed submissions will be entered into a drawing to win a new digital camera.
9. Photos deemed lewd, obscene, violent, nude or offensive will be disqualified.
10. No late submissions will be accepted.
11. Do not trespass on private property or walk through people's yards.
12. NEVER EVER do anything dangerous, illegal, or damage property! We do not want you hurt in any
way.
Submission:
Send your photos via text using your mobile device to 440-253-9694 (Be aware that fees or data usage may apply).
Please remember to include:
Your full name
Your phone number
The item your are photographing
The number from the list that you are photographing
Important Dates for this contest: September 7 through October 5
• Monday, September 7th 2020 you may start photographing and sending submissions.
• Monday, October 5th, 2020 is the last day for submissions.
• Winners will be drawn on Friday October 9th.
• Winners will be notified no later than Monday, October 12th, 2020
• Winners must pick up their prize at Andover Public Library, 142 W. Main St, Andover, Ohio 44003 on or before Monday, October 19th.
• If the prize is not picked up on or before Oct 19th, we will draw for another winner.
Download and print the Photo Scavenger Hunt List & Rules or pick up at printed copy from the library.