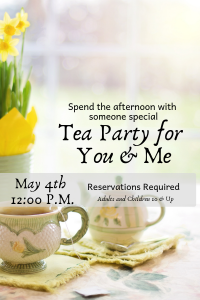 Sheila Privett, Adult Program Coordinator
With Mother's Day approaching, and my own mother not living close by, I started to think about a program that would honor relationships between special family members. Whether it be a father and daughter, mother and child, or any other combination, my wish for them is that everyone feels appreciated.  I wanted to create a special time to celebrate relationships. I thought what better way than a tea party, with linen-lined tables, finger sandwiches, and sweets.
I am hoping to create an elegant experience that will allow everyone to sit down and have a quiet conversation, enjoy a light lunch, and enjoy the company of their special family member or guest.  
My love for my family and friends and the special moments with them is what I hope to share with our community. 
By arranging this Tea Party, I am hoping that everyone will take advantage of the time we have with our family, friends, and loved ones, and enjoy a sweet treat and sip some tea.
We spend so much money planning days out like date nights, shopping trips, or we may just stay home to read books or watch tv/movies. My hopes are to give our community an experience that was not hard to plan, expensive or out of reach.  I wanted to provide a venue (Andover Public Library) and an event (Tea Party for You and Me) where you can have fun, be loved and create a treasured memory for yourself and a guest.
Please enjoy a sip of tea and a sweet at Andover Public Library's Tea Party.
Event Details http://www.andover.lib.oh.us/live/events/tea-party-for-you-and-me/
For reservations for you and your guest(s) please call 440-293-6792.