7 Young Adult/General Fiction Books About Unicorns
June 23, 2020 Maria Firkaly
Our Imagine Your Story Summer Reading theme this week is Unicorns and Fairies. We put together a list of 7 young adult and general fiction titles to check out. One is a comic book .. how fun is that?
"Be a Unicorn in a Field Full of Horses" – unknown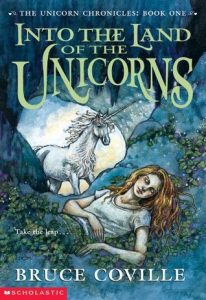 Into the Land of Unicorns by Bruce Coville Libby audio book and Hoopla audio book
Young Adult
As each chime sounds, Cara climbs faster up the steep bell tower. Eleven! She must be on the roof when the next bell tolls. Twelve! With a deep breath, and only half believing she will survive, Cara jumps off the church roof and into Luster, land of the unicorns.
In Luster, Cara meets many wonderful creatures, but the most magnificent of all is Lightfoot, a rebellious young unicorn. Cara's band of friends comes to include a hairy creature named the Dimblethum and the monekey-like Squijim. Together, they set out to reach the Unicorn Queen before the mysterious man who is following them does – to prevent the destruction of all unicorns forever.
In Search of the Unicorn Vol. 1: The Land of the Moors by Emilio Ruiz Hoopla Comic Book
Part 1 of the In Search of the Unicorn series
Leading a band of faithful crossbowmen, Juan de Olid leaves Castile in secret, bound for adventure and the unknown lands of Sub-Saharan Africa. The expedition's objective is to bring back a unicorn horn as quickly as possible-the future of the kingdom depends on it. On the advice of the most pre-eminent experts of their day, Juan de Olid and his companions take along with them the one thing that can help them in their quest: a virgin. For the scent of unsullied maidens has the power to tame the most formidable of unicorns. Meanwhile, the apothecaries of King Henry IV of Castile, nicknamed "the Impotent," impatiently await this legendary horn, as it is said it can cure the King and ensure the continuation of the royal line…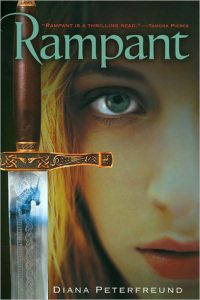 Rampant by Diana Peterfreund Hoopla e-book and audio book
Young Adult
Forget everything you ever knew about unicorns… Real unicorns are venomous, man-eating monsters with huge fangs and razor-sharp horns. Fortunately, they've been extinct for a hundred and fifty years. Or not. Astrid had always scoffed at her eccentric mother's stories about killer unicorns. But when one of the monsters attacks her boyfriend-thereby ruining any chance of him taking her to the prom-Astrid finds herself headed to Rome to train as a unicorn hunter at the ancient cloisters the hunters have used for centuries. However, at the cloisters all is not what it seems. Outside, the unicorns wait to attack. And within, Astrid faces other, unexpected threats: from the crumbling, bone-covered walls that vibrate with a terrible power to the hidden agendas of her fellow hunters to-perhaps most dangerously of all-her growing attraction to a handsome art student… an attraction that could jeopardize everything.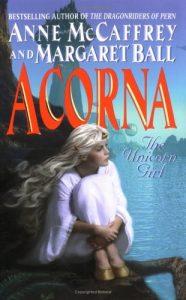 Acorna:The Unicorn Girl by Anne McCaffrey and Margaret Ball Libby e-book
Young Adult
She was just a little girl, with a tiny horn in the center of her forehead, funny-looking feet, beautiful silver hair, and several curious powers: the ability to purify air and water, make plants grow, and heal scars and broken bones. A trio of grizzled prospectors found her drifting in an escape pod amid the asteroids, adopted her, and took her to the bandit planet Kezdet, a place where no questions are asked and the girl might grow up free.
But Kezdet has its own dark secret. The prosperity of the planet is based on a hideous trade in child slave labor, administered by "The Piper" — a mystery man with special plans for Acorna and her powers. But free little girls have a way of growing into freedom-loving young women, and Acorna has special plans all her own. . .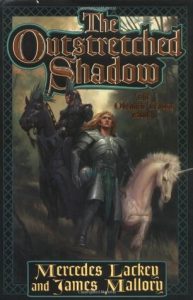 The Outstretched Shadow by Mercedes Lackey and James Mallory Libby audio book
Adult Fiction
"Kellen's life changes almost faster than he can understand or accept. Rescued by a unicorn, healed by a female Wild Mage who knows more about Kellen than anyone outside the City should, meeting Elven royalty and Elven warriors, and plunged into a world where the magical beings he has learned about as abstract concepts are flesh and blood creatures-Kellen both revels in and fears his new freedom."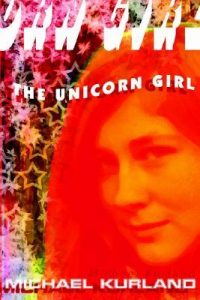 The Unicorn Girl by Michael Kurland Libby e-book
Adult Fiction
Greenwich Village was a model of decorum compared to what went down when the BLIP hit the cosmic fa – and scattered all time, space and sanity to the fourteen dimensions.
Mike and Chester – fearless hippy explorers of a thousand incredible worlds – find that even their legacy powers are dwarfed by…
– The most beautiful girl in the universe.
– The fire snorting dragonettes.
– The last unicorn.
– The mean metal tanks.
– The assorts freaks and fuzz.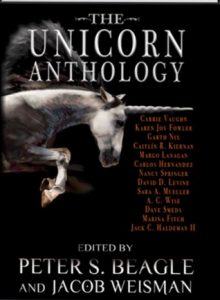 The Unicorn Anthology by Peter S. Beagle, Jacob Weisman editors Libby e-book
Adult Ficton
Unicorns: Not just for virgins anymore. Here are sixteen lovely, powerful, intricate, and unexpected unicorn tales from fantasy icons including Garth Nix, Peter S. Beagle, Patricia A. McKillip, Bruce Coville, Carrie Vaughn, and more. In this volume you will find two would-be hunters who enlist an innkeeper to find a priest hiding the secret of the last unicorn. A time traveler tries to corral an unruly mythological beast that might never have existed at all. The lover and ex-boyfriend of a dying woman join forces to find a miraculous remedy in New York City. And a small-town writer of historical romances discovers a sliver of a mysterious horn in a slice of apple pie.