10 Children's Books about Knights and Gnomes
June 15, 2020 by Maria Firkaly
Our library Summer Reading Theme for 2020 is Imagine Your Story. This week the craft for children is Design a Shield, while the adults and teens will be creating a Rice Gnome. So, how about some Knight and Gnome themed stories?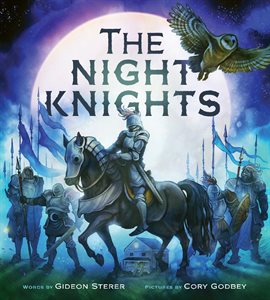 The Night Knights by Gideon Sterer, Cory Godbey Hoopla e-book
Nighttime can be scary. Every bump, thump, or scratch could be a monster lurking under the bed or in a closet. But if that's the case, then why haven't we ever seen a monster? You might think that's because monsters don't exist. But maybe monsters do exist . . . but so do something else: The Night Knights. And when night falls, they take their place, protecting us all from the terrors lurking in the dark.
With a lyrical text reminiscent of the bestseller Dream Animals, The Night Knights introduces reluctant sleepers to the many fantastical warriors who will protect them while they slumber, from the Guardians of Gates to the Midnight Flock.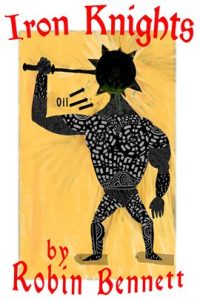 Iron Knights by Robin Bennett Hoopla e-book
Putting the Evil back into Medieval
Three best friends uncover a brooding secret in a deserted castle: 3 huge mechanical knights. They set about repairing them but their enthusiasm turns to panic when the Iron Knights turn out to be bonkers and almost completely evil. They reduce the boy's village to rubble and the friends are exiled. By luck, they are taken in by 3 separate Lords who look after them. They return a few years later to do the honourable thing: become warriors themselves and destroy the Iron Knights.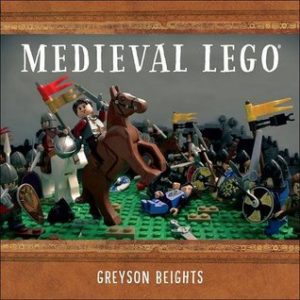 Medieval LEGO by Greyson Beights Libby e-book
Castles and kings, battles and treaties, famine and plague, intrigue and invasion!
Medieval LEGO takes you through real English history in the middle ages with a unique twist, with every event illustrated by a tiny little LEGO scene. With contributions by medievalists and scholars, this book brings medieval history to life in a fun, kid-friendly way.
Inside, you'll learn about events like the Battle of Hastings, the chartering of Oxford University, and the signing of the Magna Carta. You'll witness the Great Fire of London, the Black Death, and the Great Famine, and you'll read about famous historical figures like Robin Hood, Richard the Lionheart, Geoffrey Chaucer, and William the Conqueror.
Grab your broadsword and turn the page to join the adventure.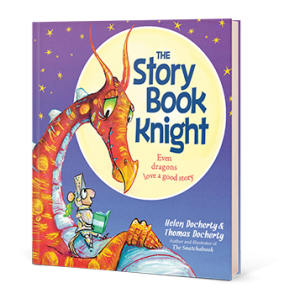 The Storybook Knight by Helen Docherty Libby e-book and available in print at the Andover Public Library
Can a story save the kingdom?
When Leo's mom and dad send him off to fight a dragon, he takes a shield, a sword–and a pile of his favorite books.
But can a story be as mighty as a sword?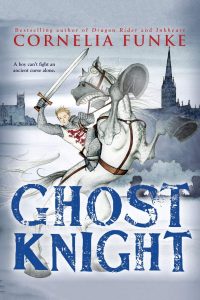 Ghost Knight by Corneila Funke Libby e-book and audio book
Eleven-year-old Jon Whitcroft never expected to enjoy boarding school. Then again, he never expected to be confronted by a pack of vengeful ghosts, either. And then he meets Ella, a quirky new friend with a taste for adventure…
Together, Jon and Ella must work to uncover the secrets of a centuries-old murder while being haunted by terrifying spirits, their bloodless faces set on revenge. So when Jon summons the ghost of the late knight Longspee for his protection, there's just one question: Can Longspee truly be trusted?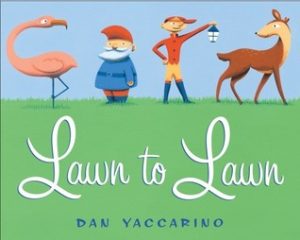 Lawn to Lawn by Dan Yaccarino Libby e-book
Not everyone loves lawn ornaments. But Pearl was different. Pearl was their friend—the only human who knew they were real.
So when Pearl's family moves and (shockingly!) leaves their pink flamingo, deer, gnome, and lawn jockey behind, Flo, Betty, Norm, and Jack know what they must do. They must find Pearl no matter how long and perilous the journey.
Through cities and suburbs, over mountains and through swamps, the ornaments make their dangerous way. They survive storms and menacing gargoyles. They get directions from weather vanes and other statuary. And always, always, they must avoid the dreaded trash truck!
In this hysterical and quirky tale of toys-come-to-life, Dan Yaccarino reminds us that home is where the heart is and that no journey is too difficult when it leads to the one you love.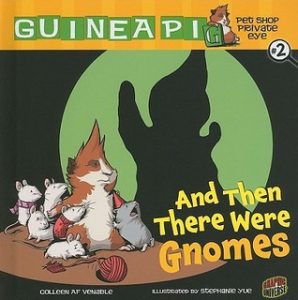 And Then There Were Gnomes by Colleen AF Venable Libby e-book
Sasspants, PI(G), the world's fluffiest detective, is back on the case―or she will be, if her sidekick Hamisher can convince her there's really a mystery afoot. Hamisher has made up so many stories, Sasspants doesn't believe him. But one by one the mice in Mr. Venezi's pet shop are going missing, and all the spooky clues point to…a ghost! Once our shaggy Sherlocks start digging for answers, they will stop at nothing to ferret out the truth!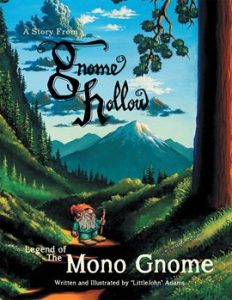 Legend of the Mono Gnome by Little John Adams hoopla e-book
A Story from Gnome Hollow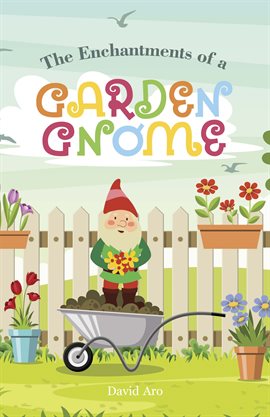 The Enchantments of a Garden Gnome by David Aro Hoopla e-book
LevelUp's fiction stories present a unique blend of high-interest stories and stimulating educational material. Each story brings readers on a new adventure that is perfectly suited to their reading level. The LevelUp program offers reading materials at each Lexile level, so readers can learn to read, read to learn, and read for fun. No matter their reading abilities, LevelUp readers can find stories that speak to them, from fairytales to out-of-this-world alien encounters to everyday experiences. In this story, a girl runs into a magical garden gnome that promises he can help her grow anything in her garden…for a price.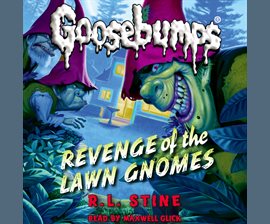 Revenge of the Garden Gnomes by R.L. Stine Hoopla audio book
Get Goosebumps with the startling repackage of a best selling classic. Now with bonus materials! Two pink flamingos. A whole family of plaster skunks. Joe Burton's dad loves those tacky lawn ornaments. But then he brings home two ugly lawn gnomes. And that's when the trouble starts.Late at night, When everyone's asleep. Someone's creeping in the garden. Whispering nasty things. Smashing melons. Squashing tomatoes. No way two dumb old lawn ornaments could be causing all the trouble? Is there?